EXHIBITION AT BREWHOUSE GALLERY, BURTON FROM NOVEMBER 27TH 2023
Thanks to everyone who came along to the opening of the Making Trails Exhibition at the Brewhouse Gallery. The bar was open and the gallery was buzzing! Thanks to Tilley Bancroft at Making Trails for putting together a great show. It was really lovely catching up with artist friends old and new. The show is open until January 7th 2024. 
GUEST SPEAKER FOR ART STUDENTS AT UNIVERSITY OF DERBY NOVEMBER 2023
I was delighted to be invited to be a guest speaker for the art students at Derby University. Empowering our future creatives for life long, fulfilling careers in the arts is so important to me. Thanks to Senior Academic Bev Reardon for inviting me, it was a great morning.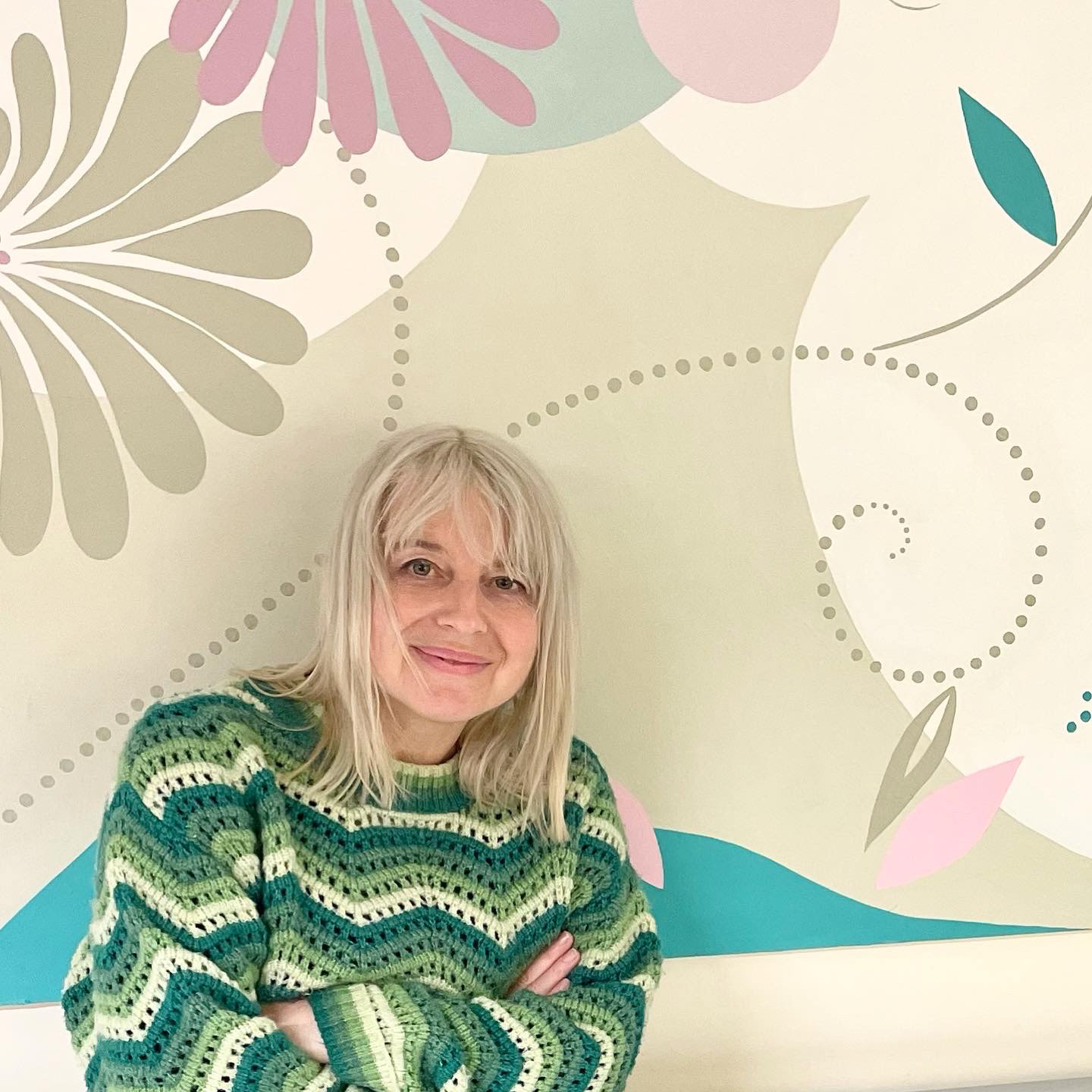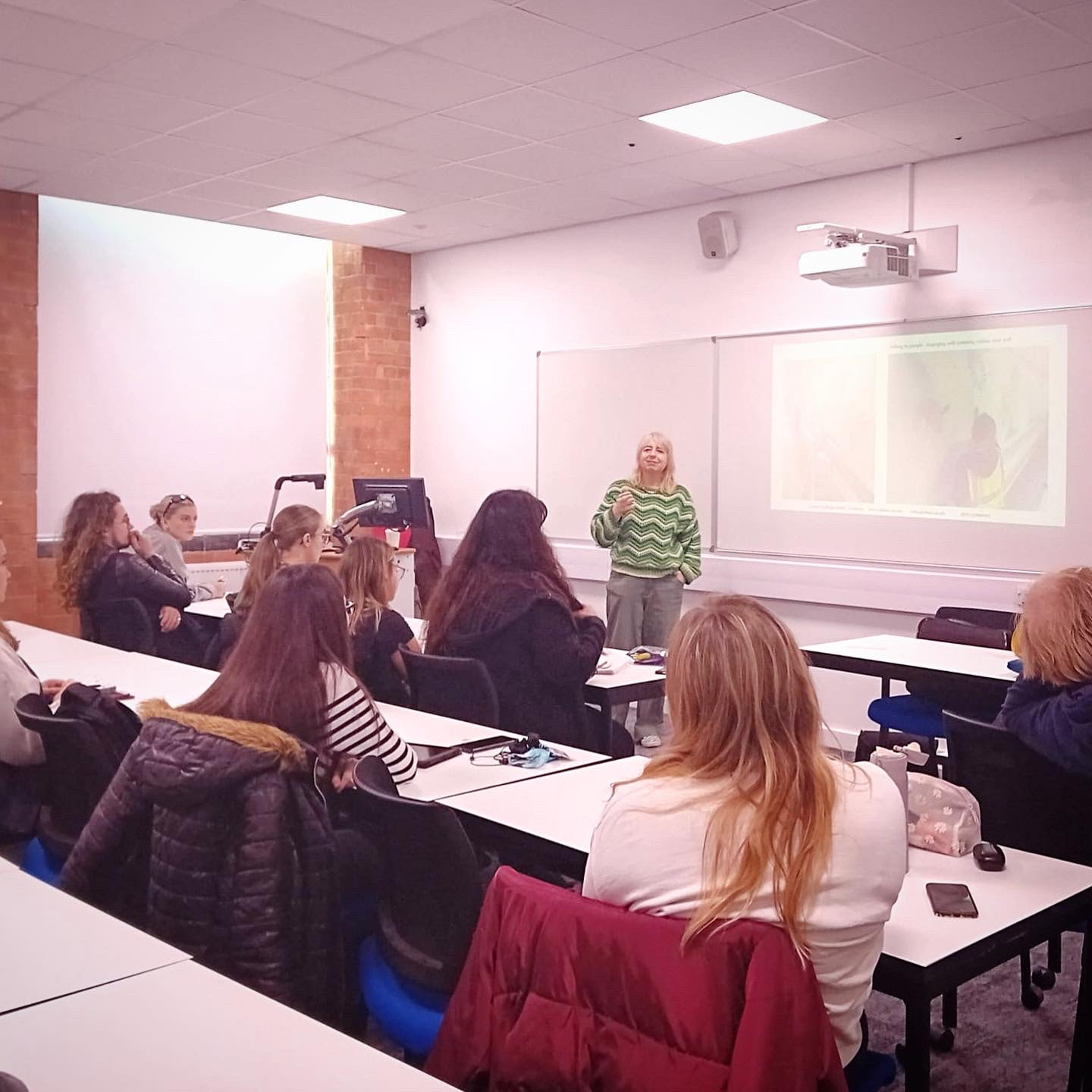 GUEST SPEAKER FOR DERBYSHIRE NETWORKING EVENT NOVEMBER 2023
I was delighted to be invited to do a presentation about creativity for the Derbyshire Business Networking event at Reach Events. Valuing and nurturing our own sense of creativity is so beneficial for both individual and business development. Engaging with, and valuing, the wealth of many talented creatives in our local communities will only strengthen civic pride and attract more business to our unique area. Thanks to Jonathan Leach for leading such an open and welcoming group.
PAINTING MURAL BOARDS AT ROYAL DERBY HOSPITAL NOVEMBER 2023
I spent a couple of evenings sprucing up the mural boards on the corridor outside the busy Blood Clinic at the Royal Derby Hospital. It was a delight to talk to patients, staff and visitors about the original hand painted artwork and bring some calm tranquility and way finding to a busy part of the hospital.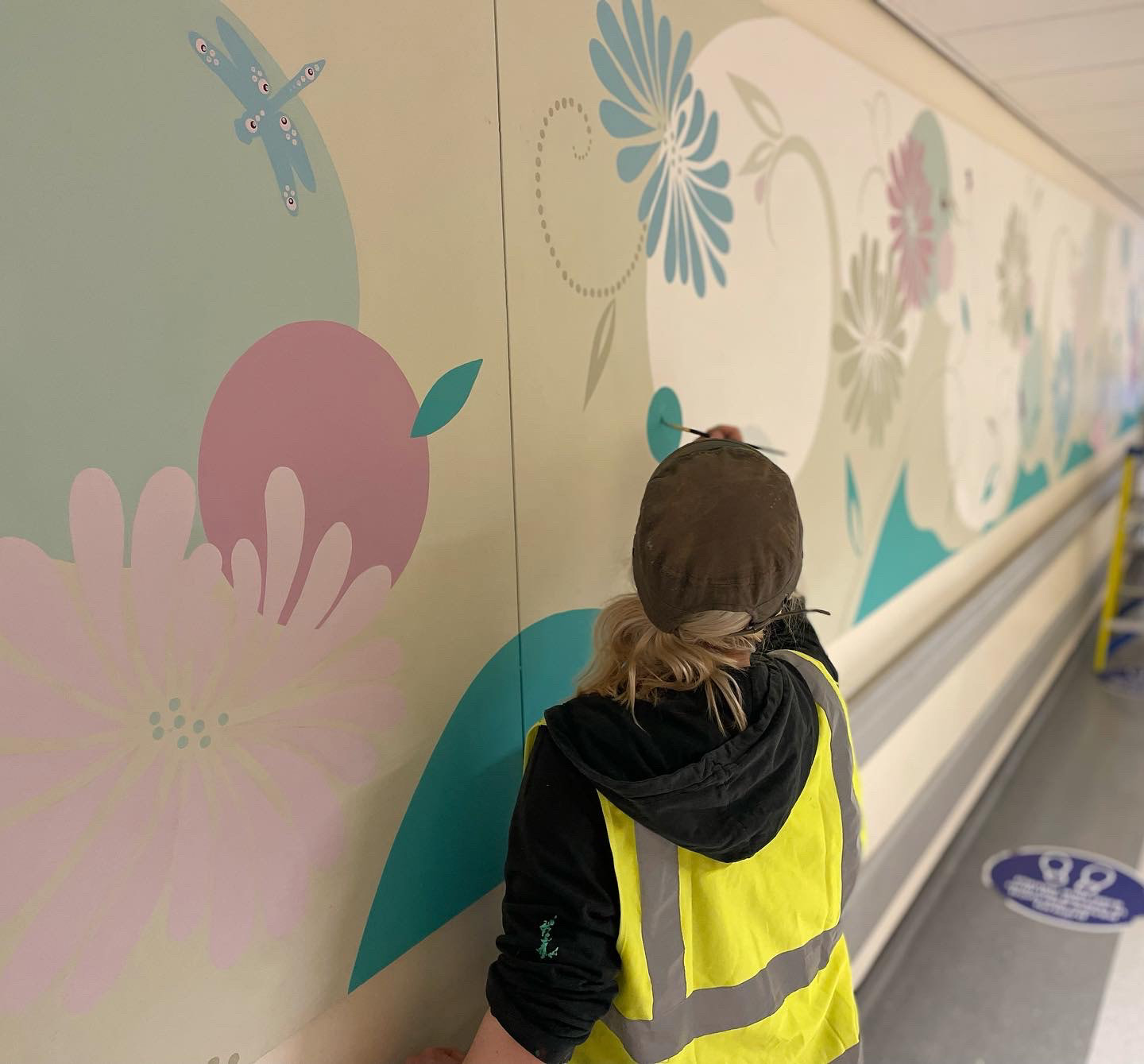 SPEAKER FOR DERBYSHIRE COUNTY COUNCIL BHM 2023 EVENT
I was honoured to be asked to talk at the BHM 2023 event for Derbyshire County Council alongside my dear friend, author and educator Clare Francis-Slater (I illustrated her book, 'The Little Book of Balm for the Broken Soul' which is available to order through Amazon and Waterstones online) We've worked on so many projects together that it was great to talk about our journey and our authentic creative collaborations! 'Saluting Our Sister' was perfect theme!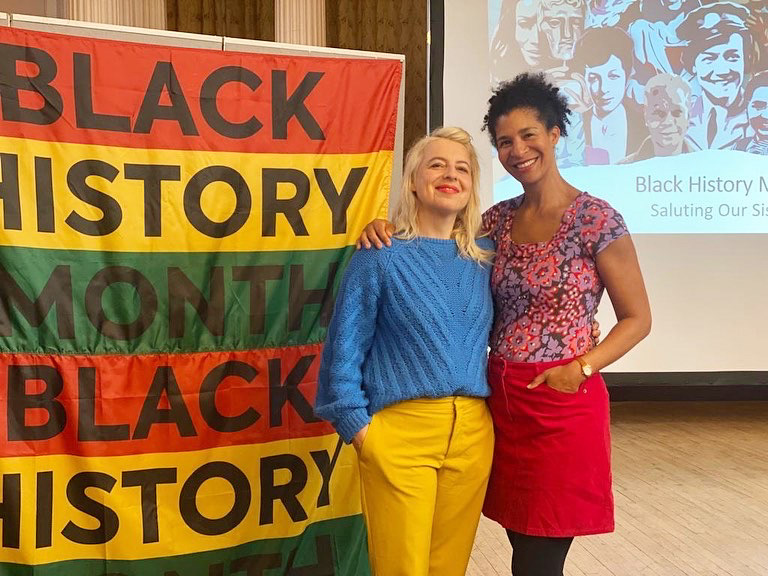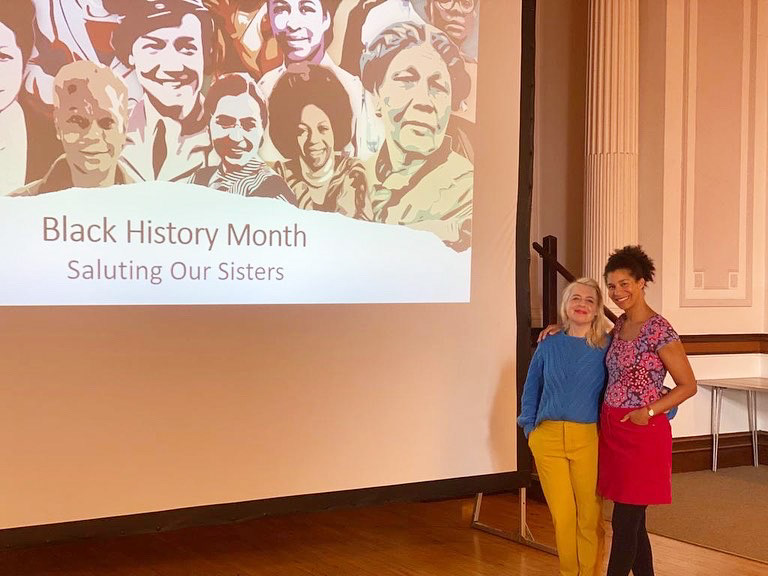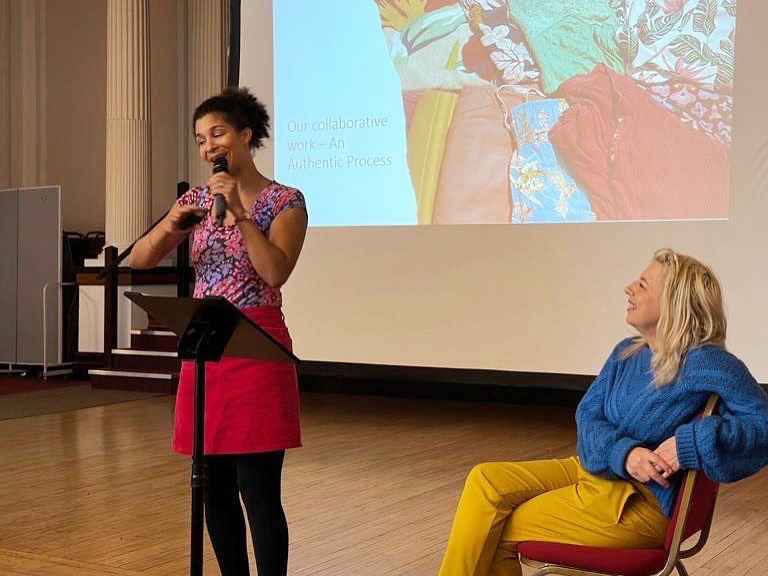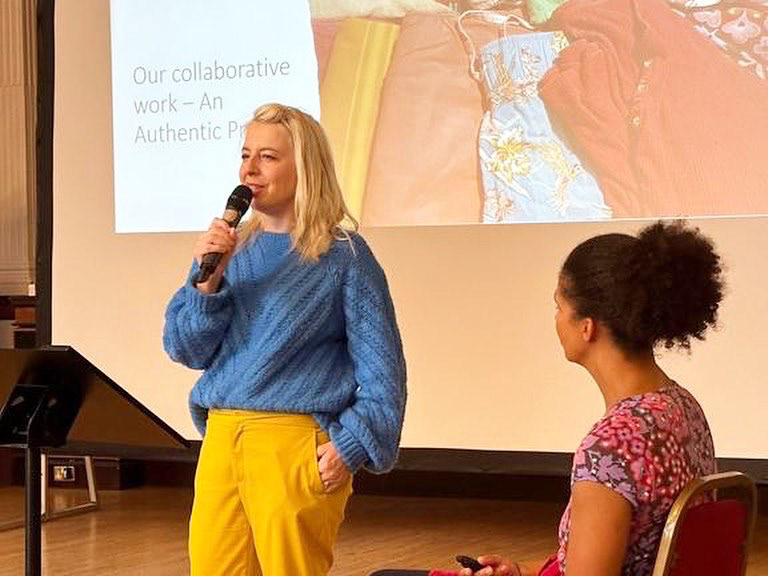 FIVE MINI-SCULPTURES FOR OPENCAST OCTOBER 2023
My mini-sculptures are bringing joy, creativity, and a touch of whimsy to Opencast's offices in London, Edinburgh, Glasgow, Leeds and Newcastle. It's rewarding to know that my artwork is brightening up workspaces and sparking smiles. Thank you to Opencast who commissioned the work and welcomed my art into their daily lives.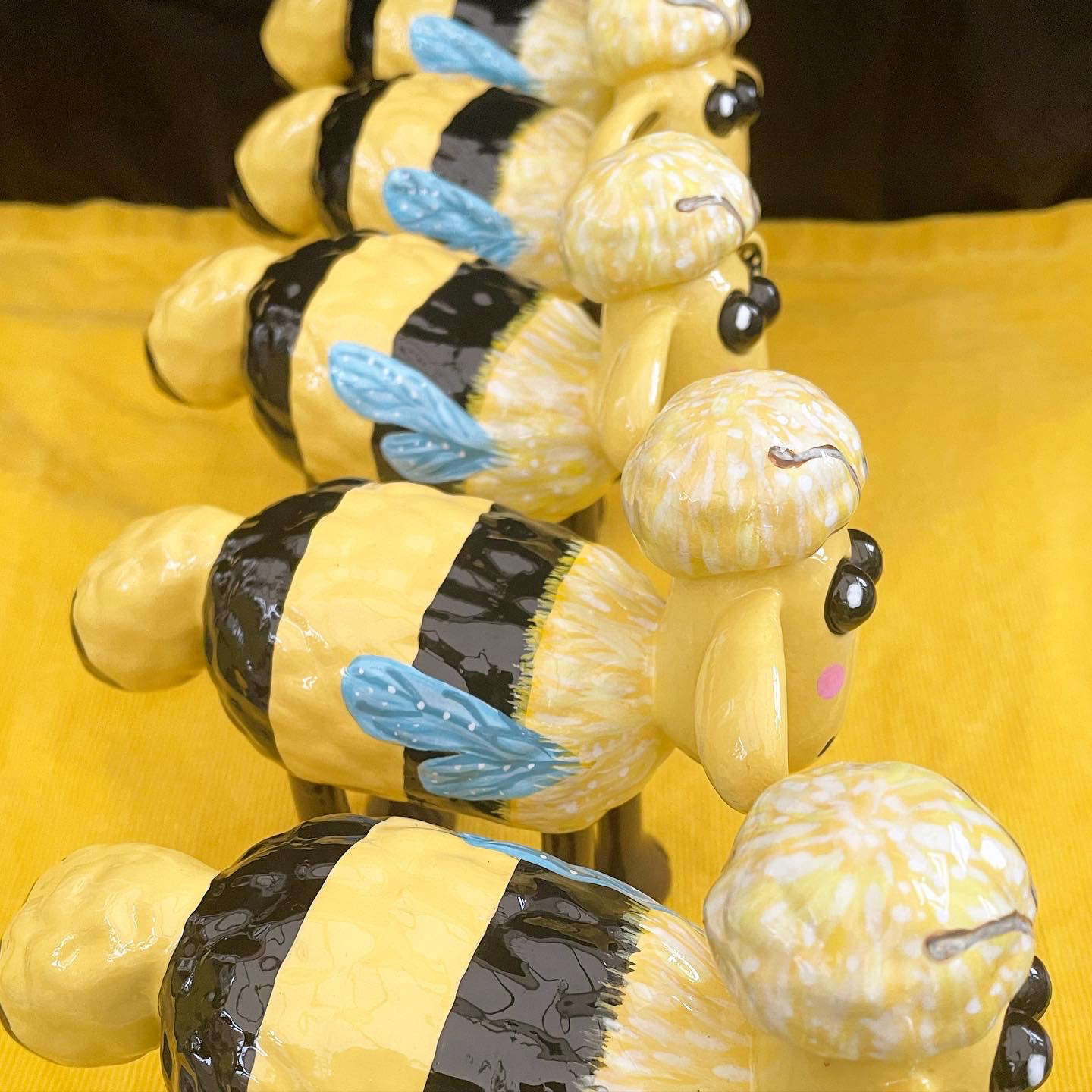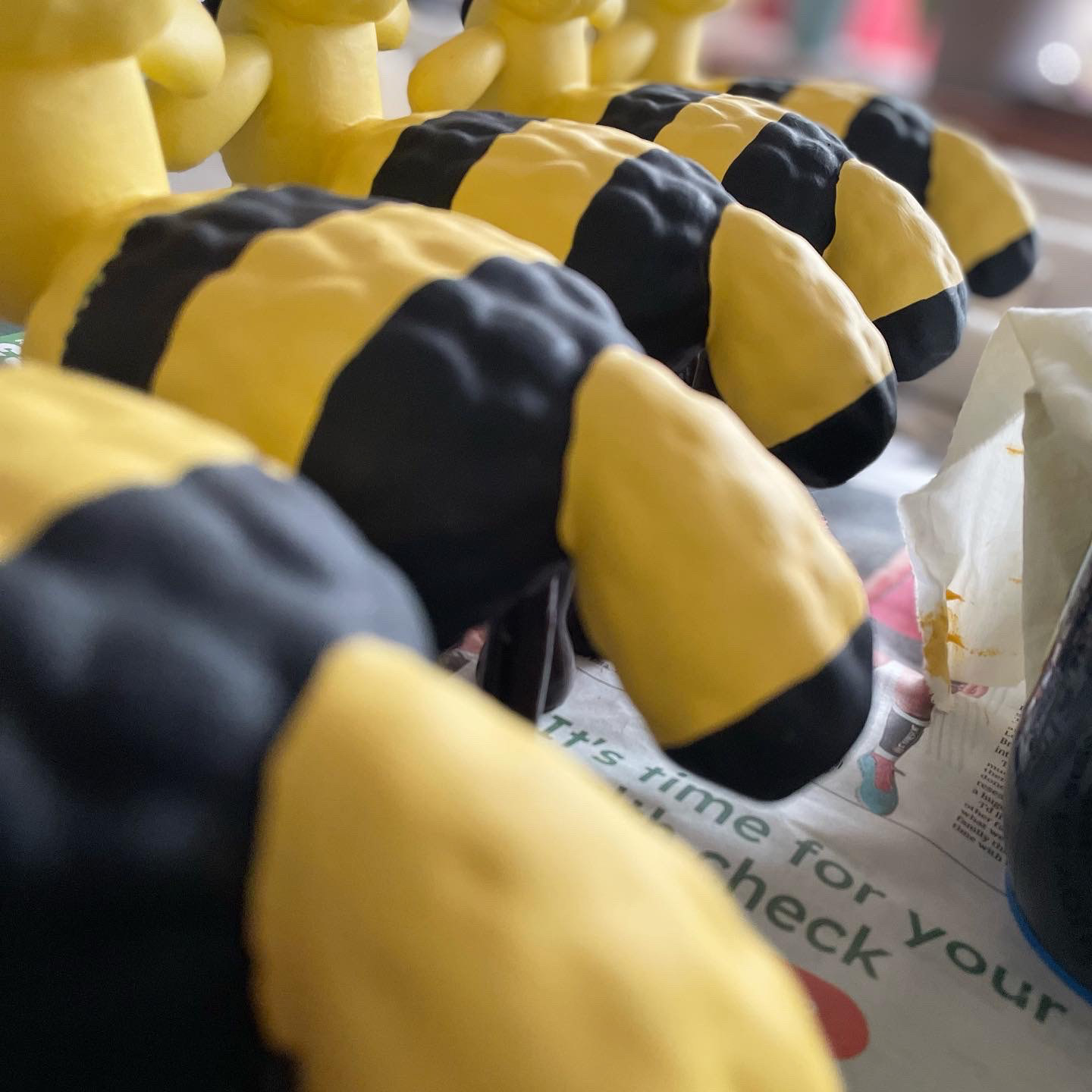 DISCHARGE ASSESSMENT UNIT ARTWORK INSTALLATION OCTOBER 2023
I created 25 designs for the Discharge Assessment Units across the University Hospitals Derby and Burton NHS Trust. The designs have been recently installed in 25 hospital spaces including Lichfield, Tamworth, Derby and Burton Hospitals. I worked very closely with the hospital staff to create a range of enhancements to make this space feel less-clinical. The discharge process can be a worrying time for patients and families. These site-specific artworks create a sense of continuity across sites to aid wayfinding and to create a focal point without being too overbearing.
CREATING A BUZZ IN NEWCASTLE!
My 'Shaun's a Wanna-Bee' sculpture is now outside Newcastle Train Station welcoming all to the vibrant city of Newcastle. The Shaun on the Tyne art trail runs throughout the summer until 27th September 2023. If you get any pics with him please let me know as I would love to see them. A big thank you to my fabulous sponsors
Opencast
. The art trail is raising funds for St Oswald's hospice. 
VISITING THE CARNIVAL BEAR IN LEEDS JULY 2023
Fantastic to meet an old friend! I went to Leeds to see my 'Carnival' Bear and he looked absolutely splendid, sparkling in the sunlight in the Victoria Gate outside Rolex. Raising funds for Leeds Hospitals Charity.
Leeds is known for its fantastic West Indian Carnival and this is celebrated in this feathery, colourful design. The Carnival Bear is painted in bright colours with glitter, metallic and iridescent paints. Leeds West Indian Carnival is one of Yorkshire's brightest highlights and always showcases the best of Caribbean cultures and is a celebration for all.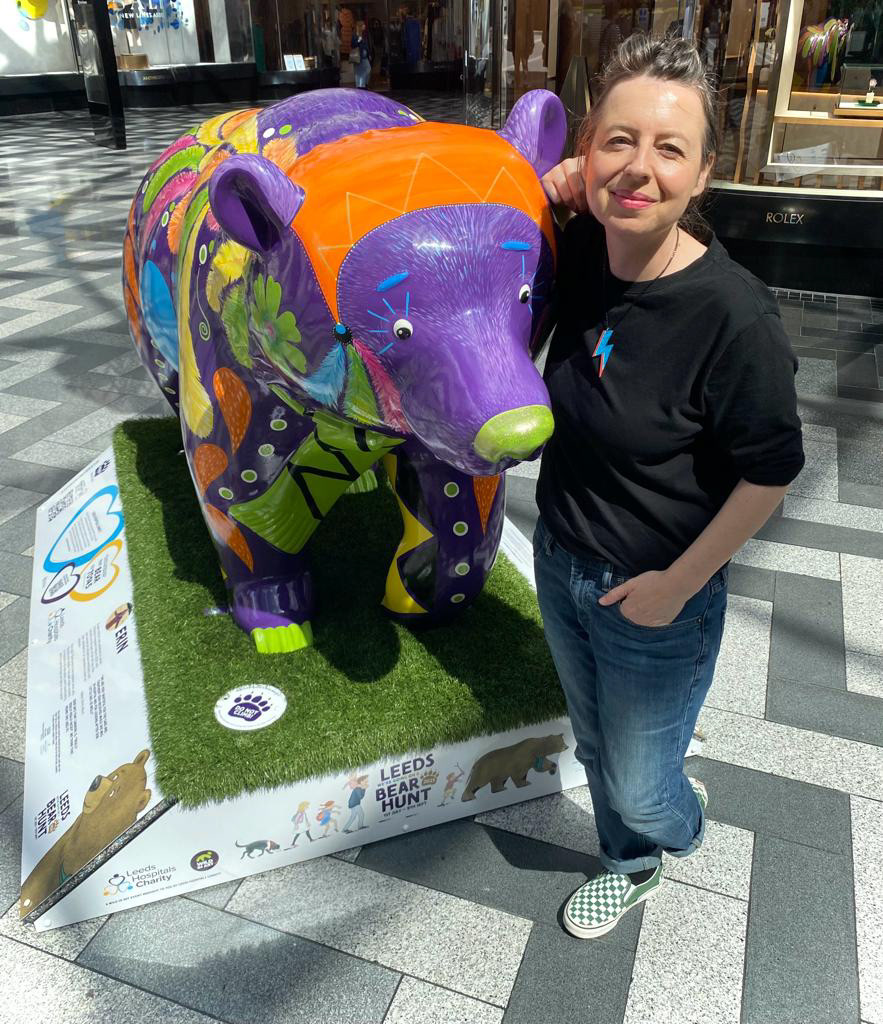 MY MONDRIAN MORPH IS AT THE TATE MODERN SUMMER 2023!
So here he is my Mondrian Morph. He is now in London enjoying his place in the spotlight in the Tate Gardens (front of the Tate Modern Gardens near Bankside Beach)  He goes perfectly with the Mondrian exhibition which is on at the Tate until September. If you get any pics with Mondrian Morph please let me know as I would love to see them send them to
info@hdart.co.uk
you may even win a prize! This fantastic art trail runs until August 20th and is step free and wheelchair friendly, raising valuable funds for
Whizz Kids
which is the UK's leading charity for young wheelchair users.
I'm Going On A Bear Hunt - Are You Coming??
Last year I had the privilege to meet one of my heroes, the writer Michael Rosen. I am delighted to be one of the
 artists selected paint a giant bear sculpture for The Leeds Bear Hunt. My giant bear sculpture called 'Carnival' forms part of an art trail of discovery around Leeds bringing Michael Rosen's iconic 'We're Going on a Bear Hunt' story to life.  My bear sculpture is outside Rolex in the Victoria Gate Leeds. This trail will be raising funds for Leeds Children's Hospital.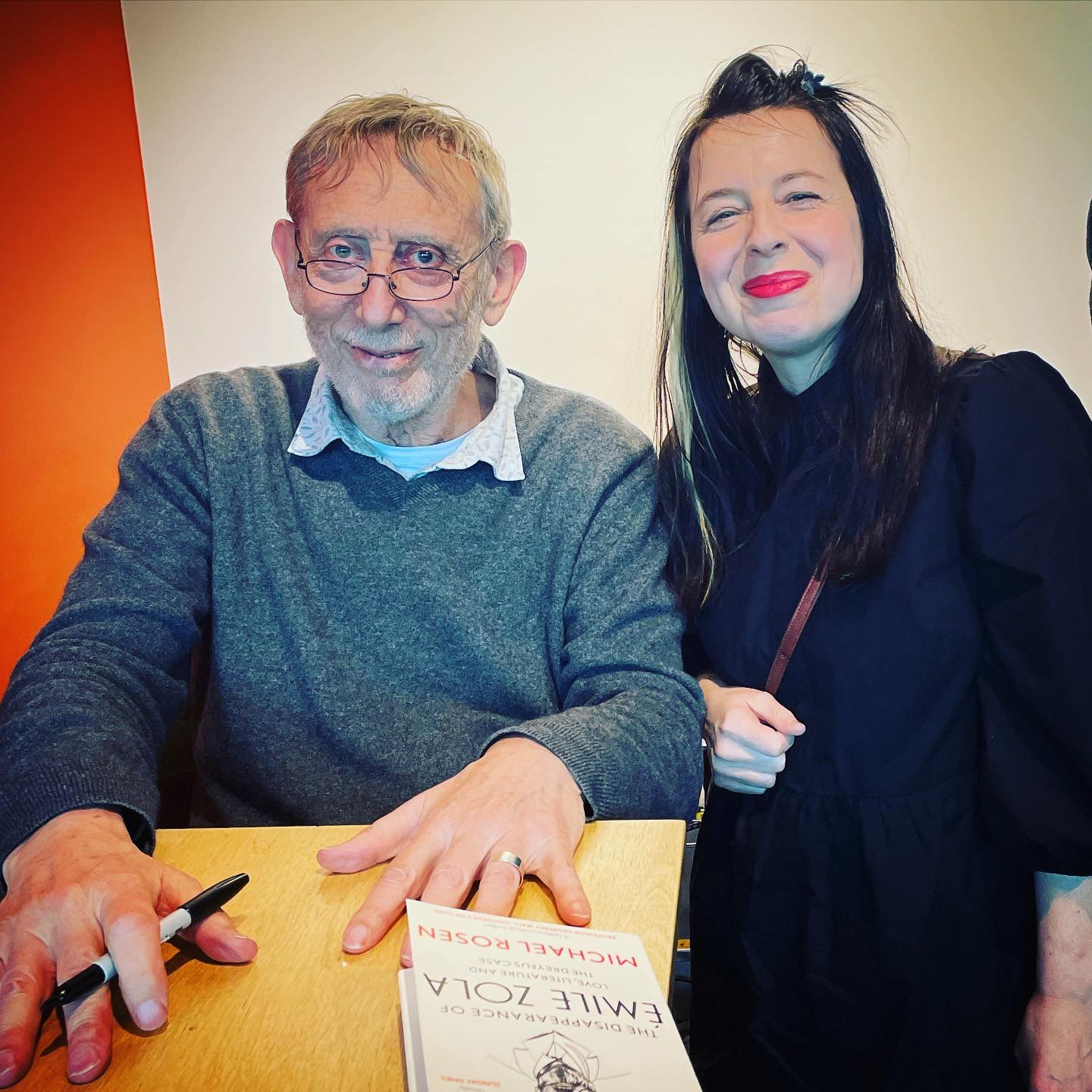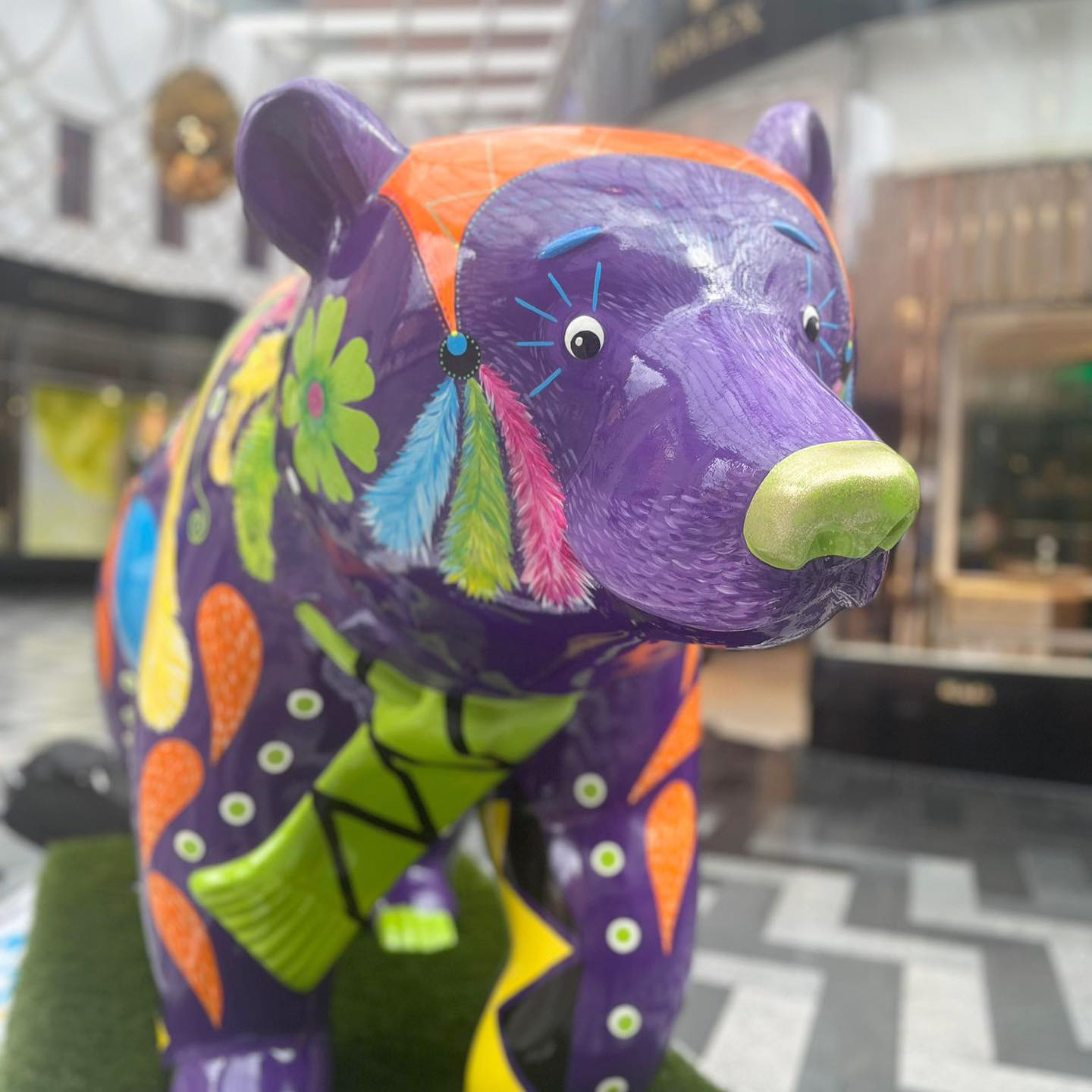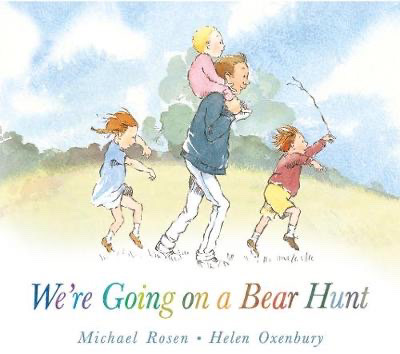 WOODLAND OF WONDER MURALS JULY 2023
I absolutely loved designing and painting these murals throughout the Children's Outpatients at Queens Hospital Burton. It was pure joy to create this woodland wonderland with cheeky foxes, sleepy badgers, happy hedgehogs and swirling swallows! The murals feature in the waiting area and all the consultant rooms, treatments rooms and through the corridor. I am now creating a range of colouring sheets to go with my design, which I will develop into a colouring book. Making hospital spaces feel more welcoming and less-clinical is such an important thing and I am so honoured to be the artist that get to do this.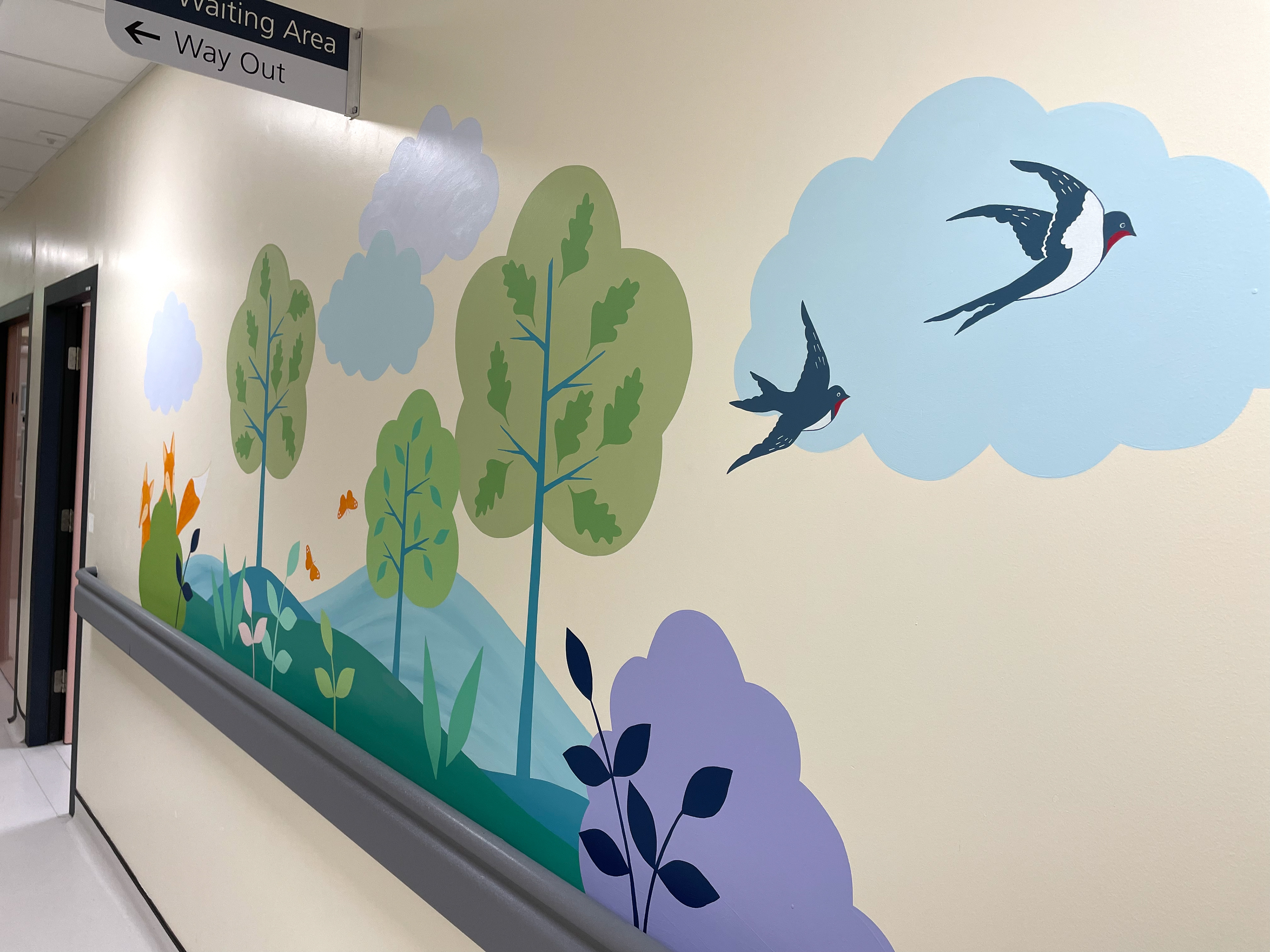 BEAUTIFUL BOOK LAUNCH DAY MAY 27TH 2023
It was a super sunny day when we celebrated the launch of the book 'The Little Book of Balm for the Broken Soul' by author Clare Francis-Slater. It was a joy to create all the illustrations for this book which is now available at Waterstones online and many other places
contact
me for further details. I look forward to sharing some of the illustrations I created with you all. Thanks for everyone at the launch for their amazing love and support - this is just the beginning 💚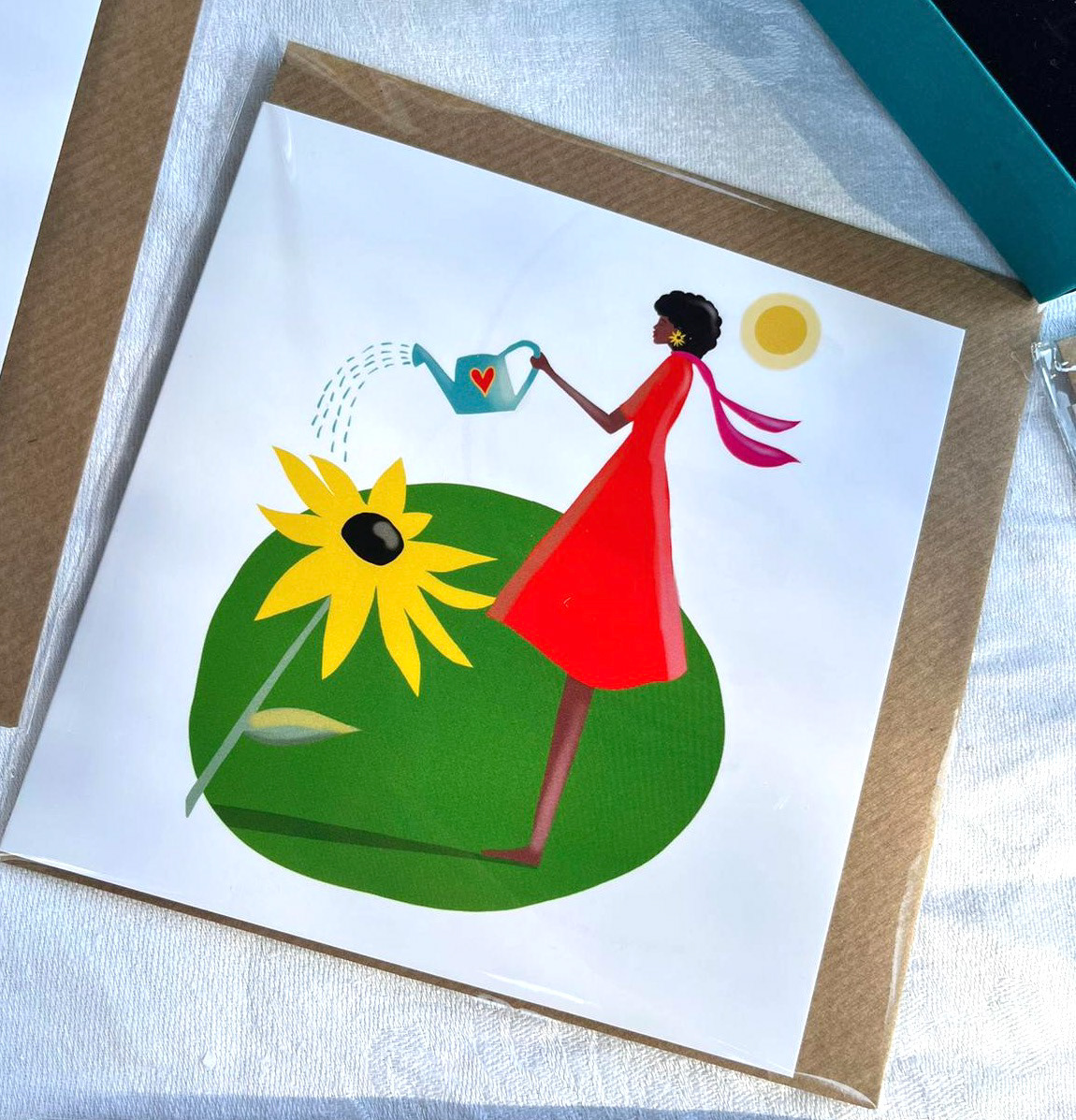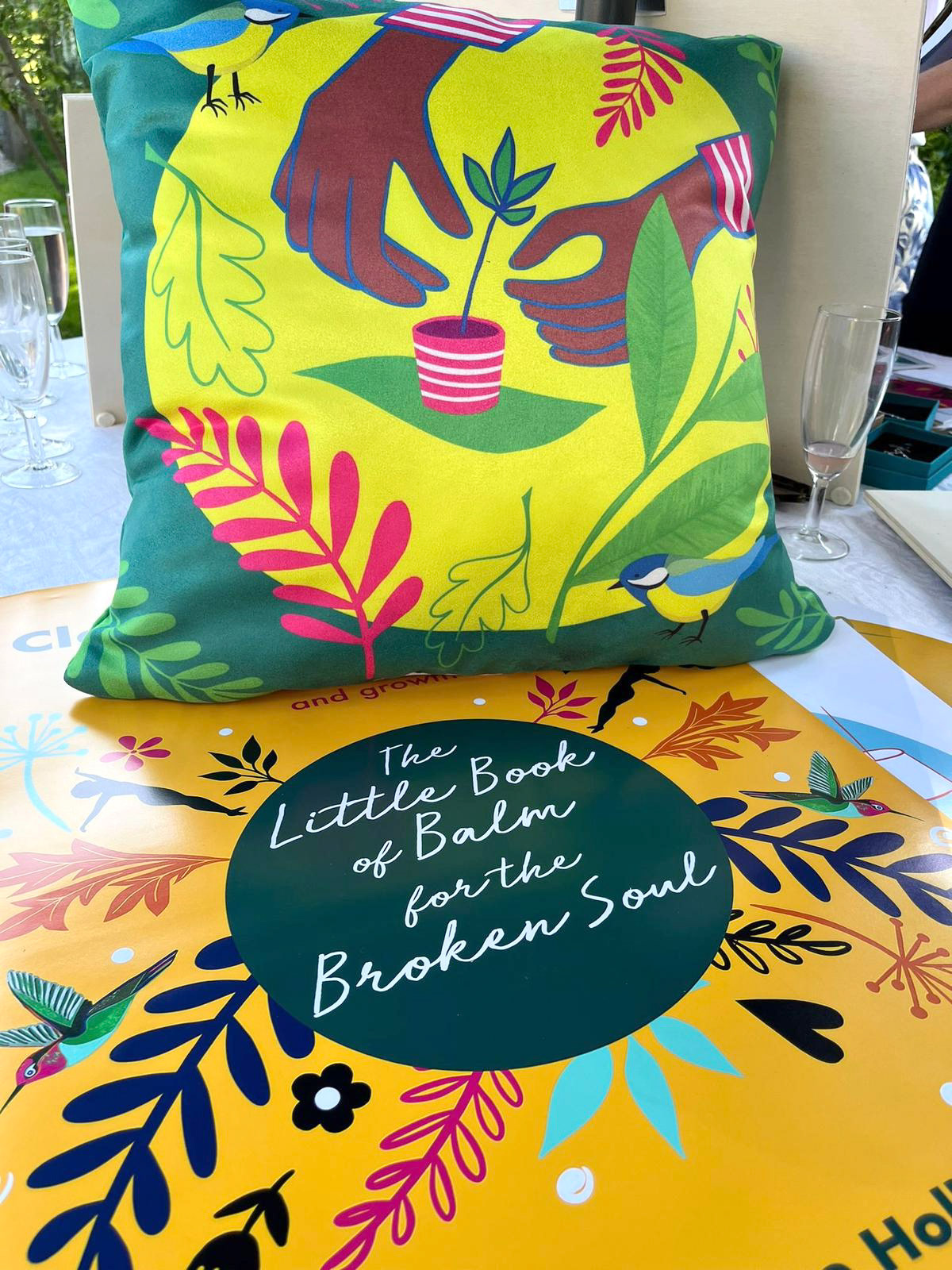 HUGE MURALS WITH HUGE IMPACT!
In May I painted two huge underpasses for Bracknell Forest Council. Hundreds of metre of wall was lovingly painted and transformed with a biodiversity theme. I loved designing this fabulous mural and it was great to be back working in the heart of the community. Thanks to my brilliant mural crew and to two local volunteers Sue and Scarlett who were utterly joyous to work with 💚 We laughed, we painted, we laughed. Thank you Jenny Coupland at Bracknell Forest Council for all her hard work on making this project happen!  I love my job! 
I will be writing a case study for this project soon, but in the meantime here is a message I received from local residents:
'We would like to say how wonderful the painted underpasses are and what a great theme with the bees and flowers. Everyday we go through the underpass to walk our dog (Cooper) in South Hill Park and the murals brighten up our day. We like to say a big thank you to Lynne and the band of volunteers for their excellent artwork. They are lovely people to chat with. We hope more of the underpasses around Bracknell will have the murals too.'
Kind Regards Tracey & Terry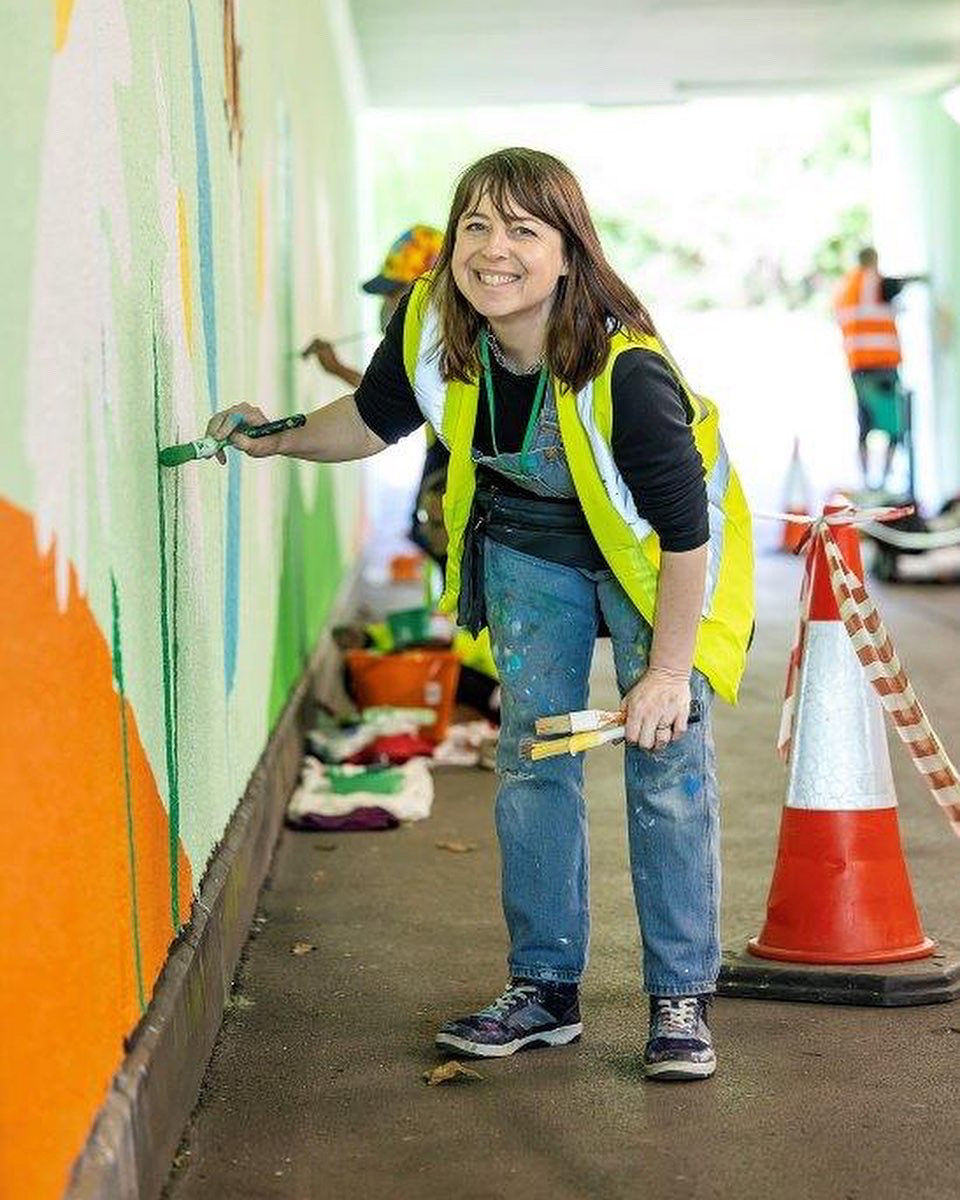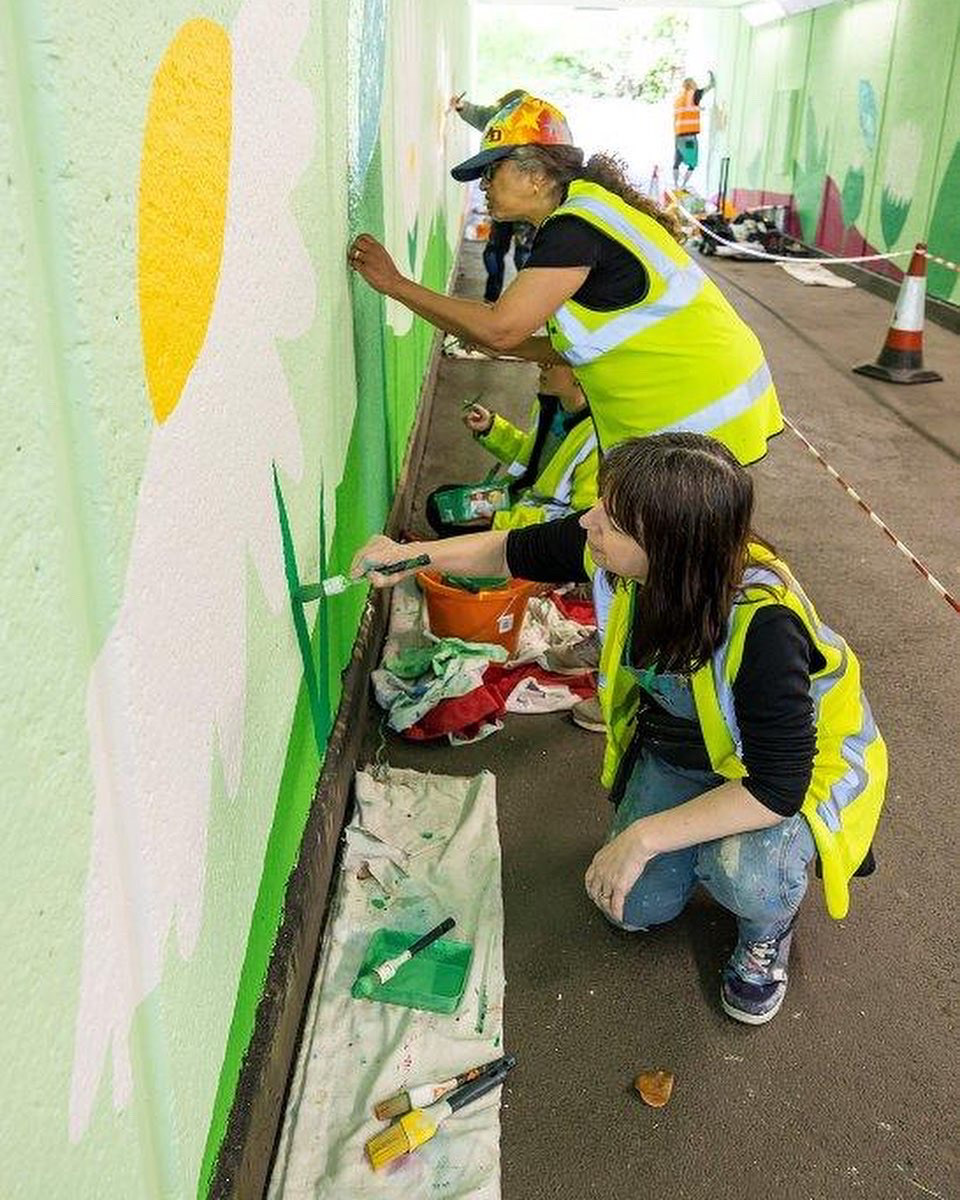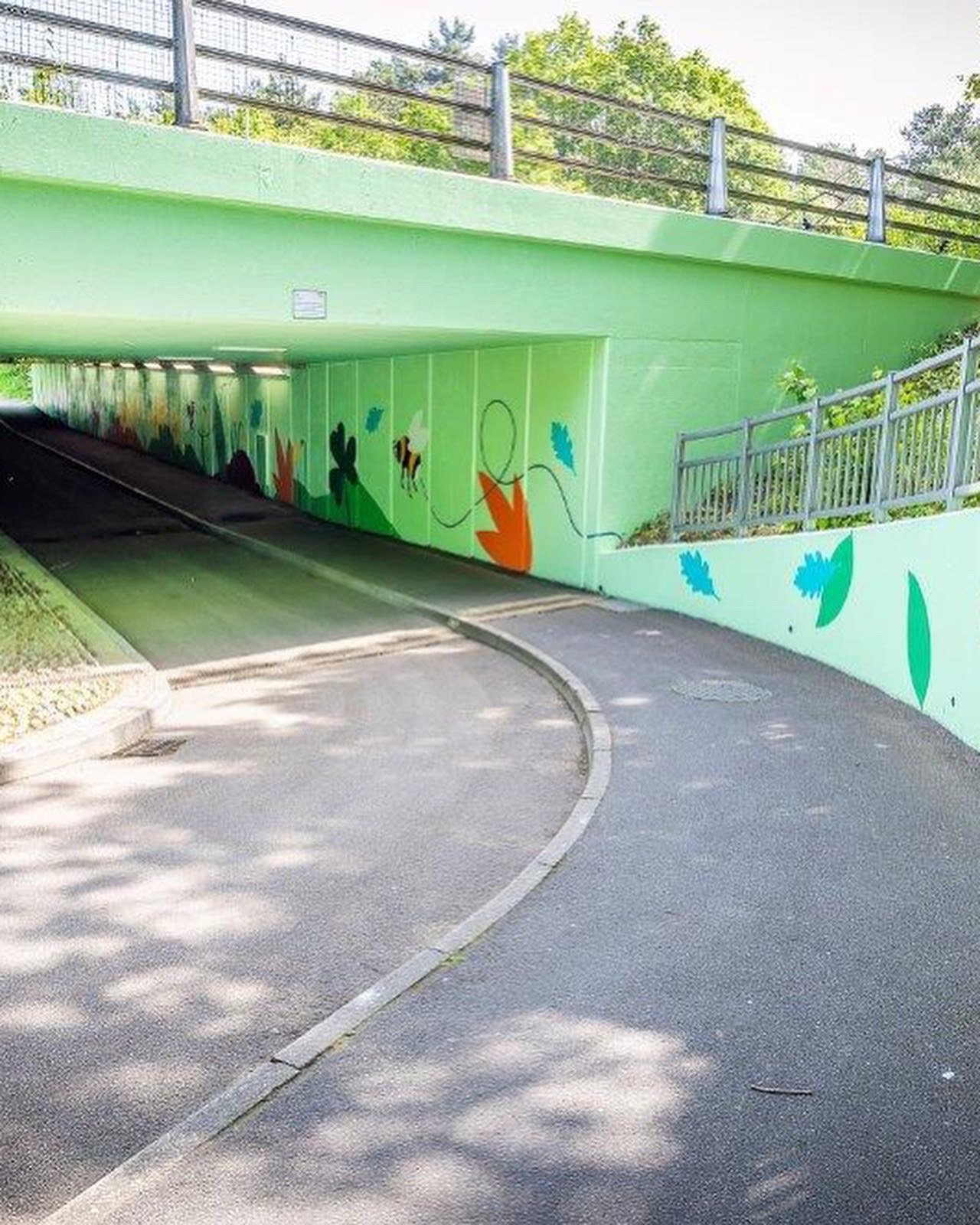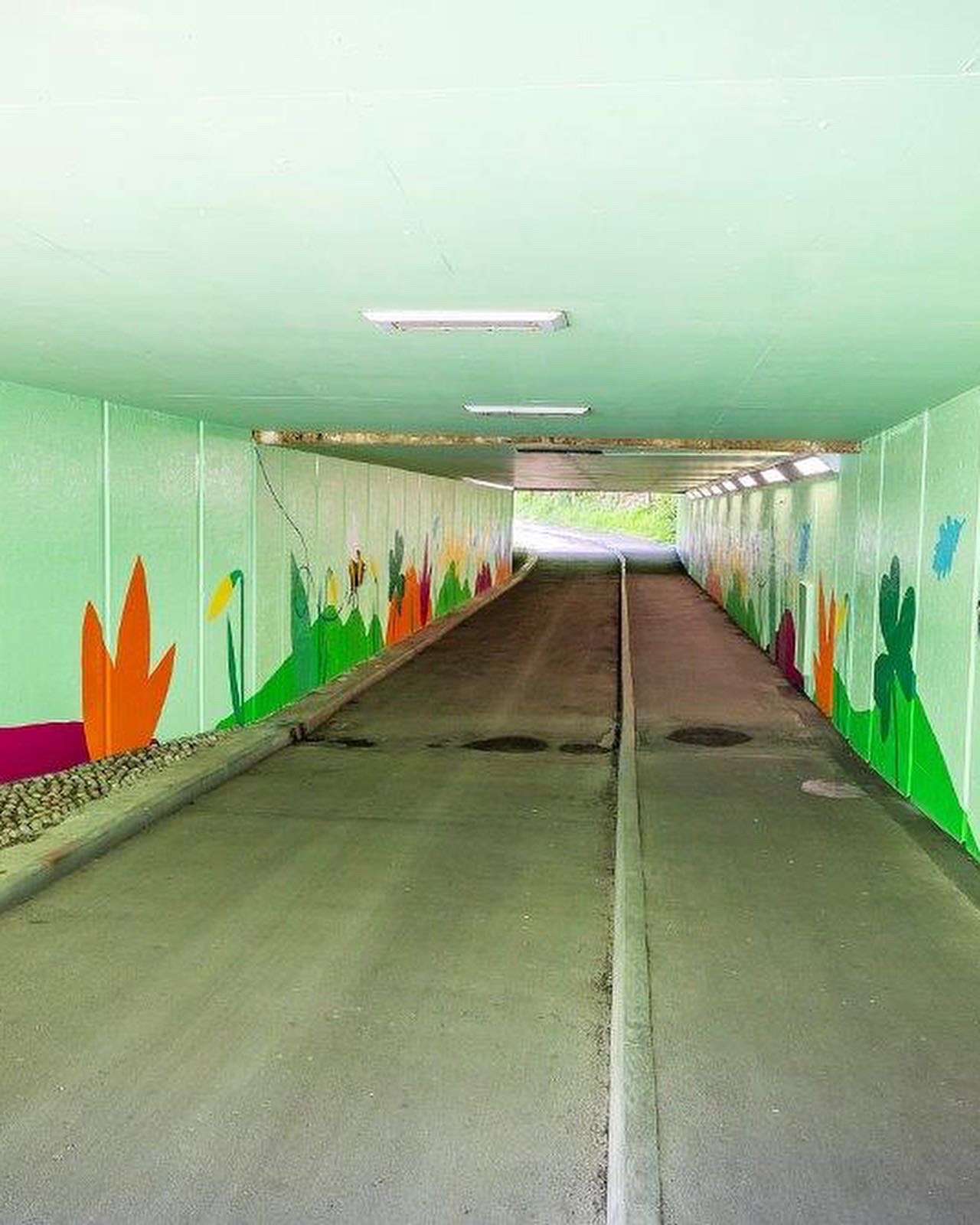 Wind In The Willows Murals, Orthotics Bays October 2022
I had such a lovely commission for the children's bays in Orthotics at Queen's Hospital. The brief was Wind In The Willows. I had the absolute pleasure designing my own character illustrations for this mural which linked two clinical bays. The area treats patients who may need walking aids, so I wanted to show badger and toad using their walking stick in different ways. Ratty and mole are off on their dreamy travels together along the river in their boat. I loved designing and painting this mural!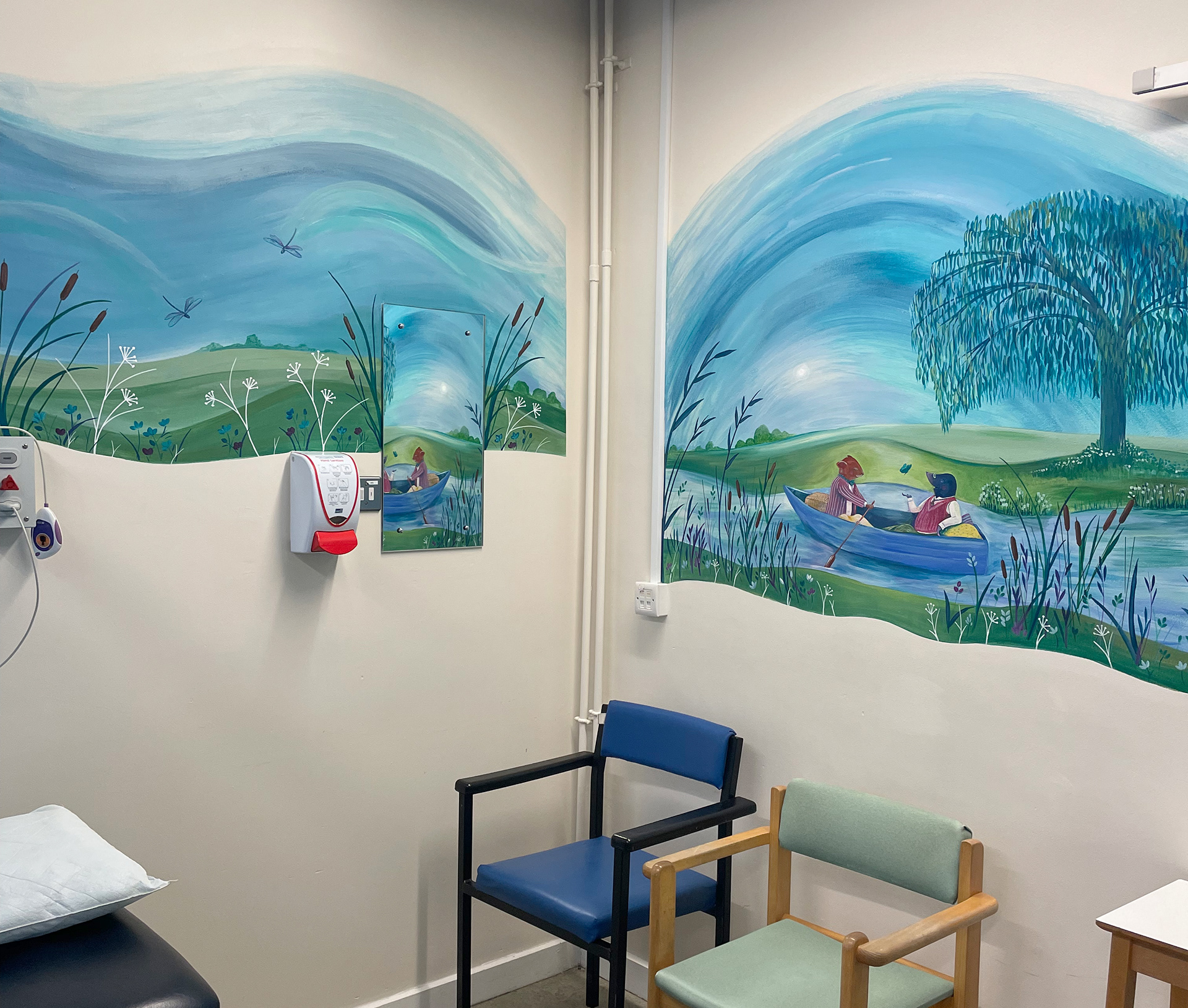 Mural for Physio Waiting Area October 2022
I designed and painted this mural for the waiting area in physiotherapy. It features a canopy of willow leaves and a snowy owl in flight at twilight. It was a real joy to design and paint this mural, and the atmospheric scene has become a firm favourite with the staff and patients! 
Mural in Fluoroscopy Room, X-Ray Department October 2022
I designed and painted this huge hand-painted mural in the fluoroscopy room at Queen's Hospital Burton X-Ray department. Patients being scanned will have something to take their mind away to another place. The brief was for abstract contemporary landscape. The photos don't really capture the size of this painting but it was a big one!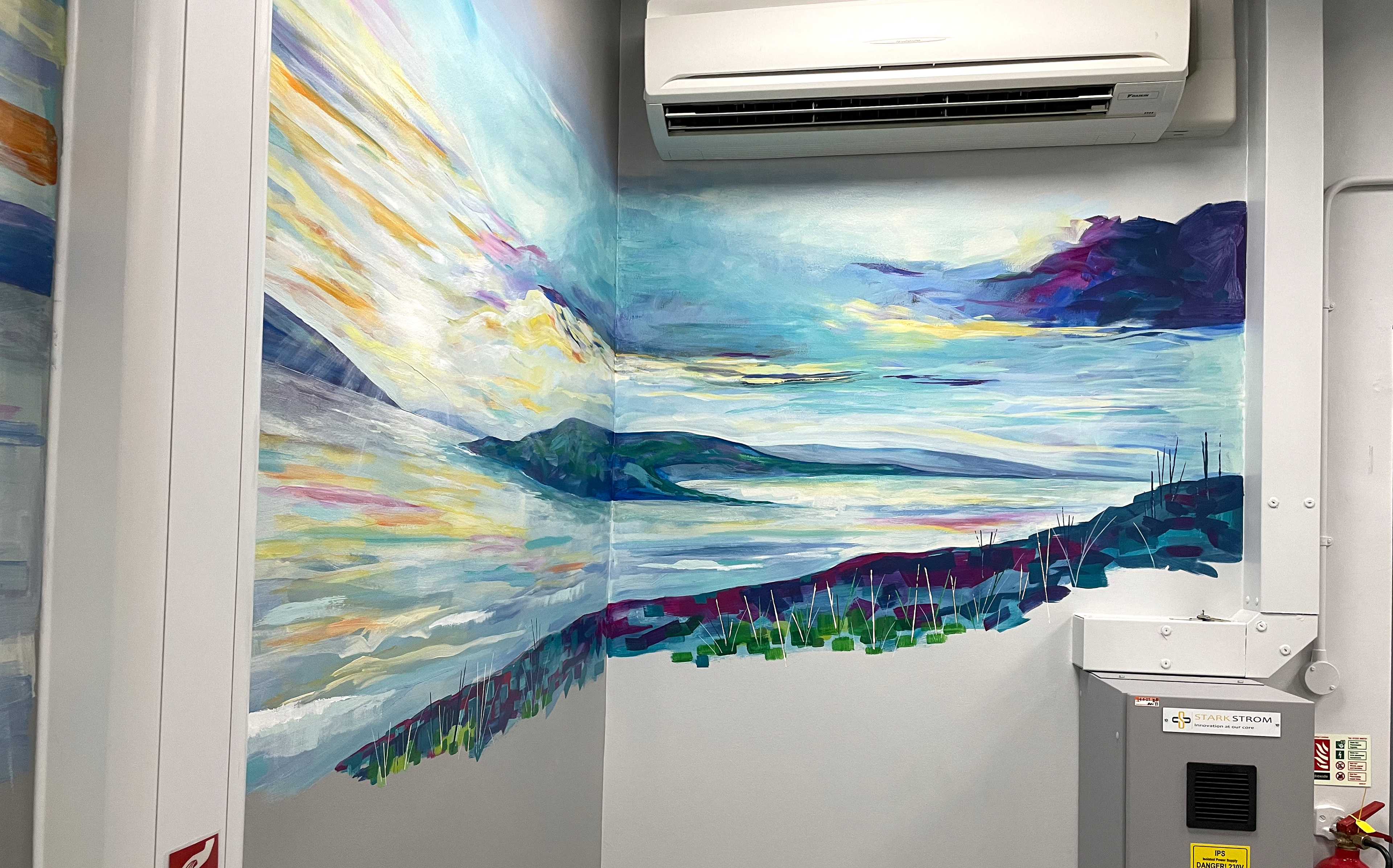 Willows, Robins and Swallows October 2022
I have designed and hand painted a set of murals throughout the Therapy Department waiting areas. I have loved painting the sweeping willows and beautiful birds. I hope it gives the staff and patients a comforting distraction.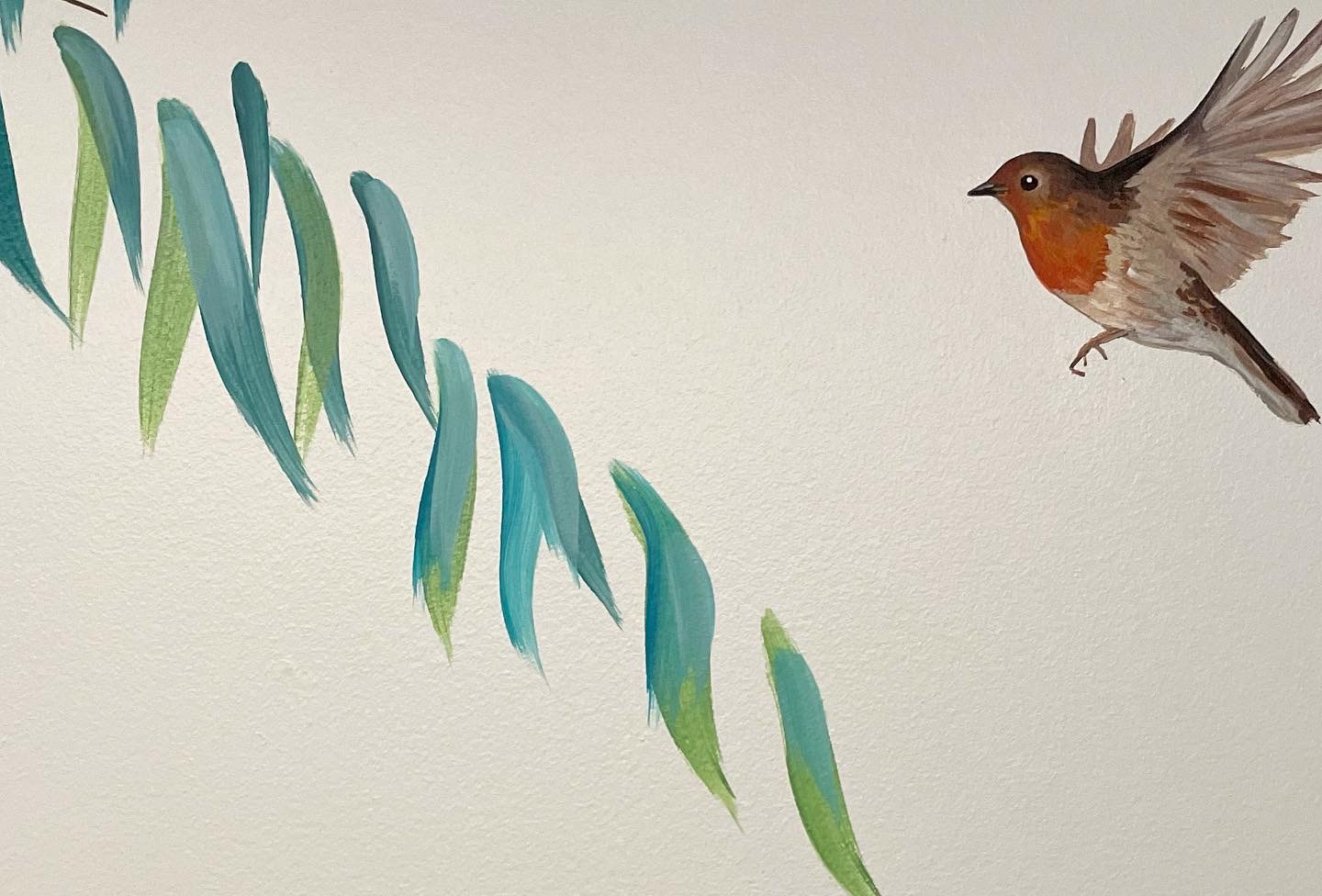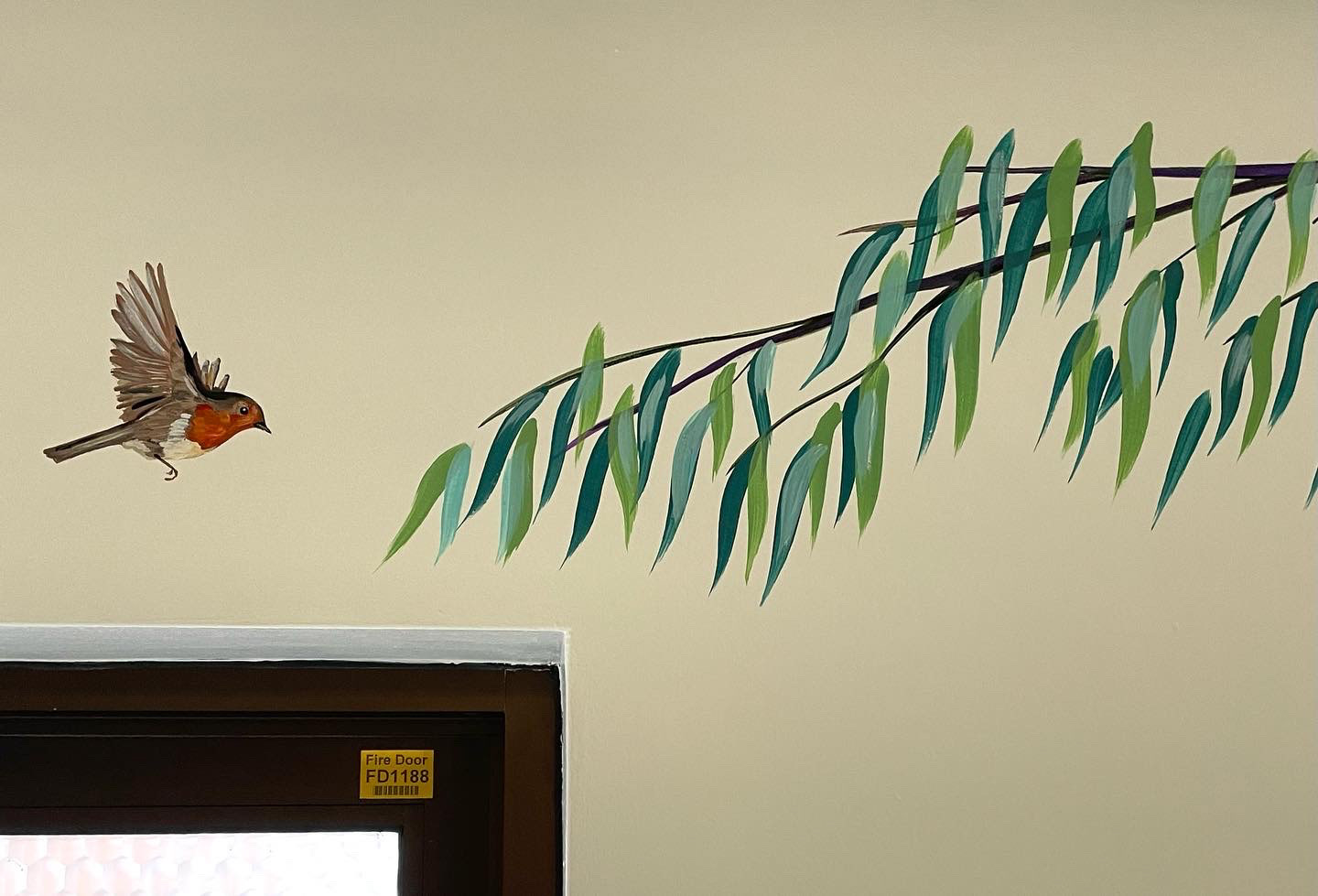 Tree of Life Mural at Multi-Faith Room, Queen's Hospital, September 2022
I have designed and hand painted a large scale mural of the Tree of Life for the Multi-Faith room at Queen's Hospital, Burton. I was delighted to be commissioned to create this sensitive hospital project. Spending time in solitude in a dignified environment can be a vital part of the healing process, both physical and spiritual. Having space and peace to reflect can help when we are at our most vulnerable.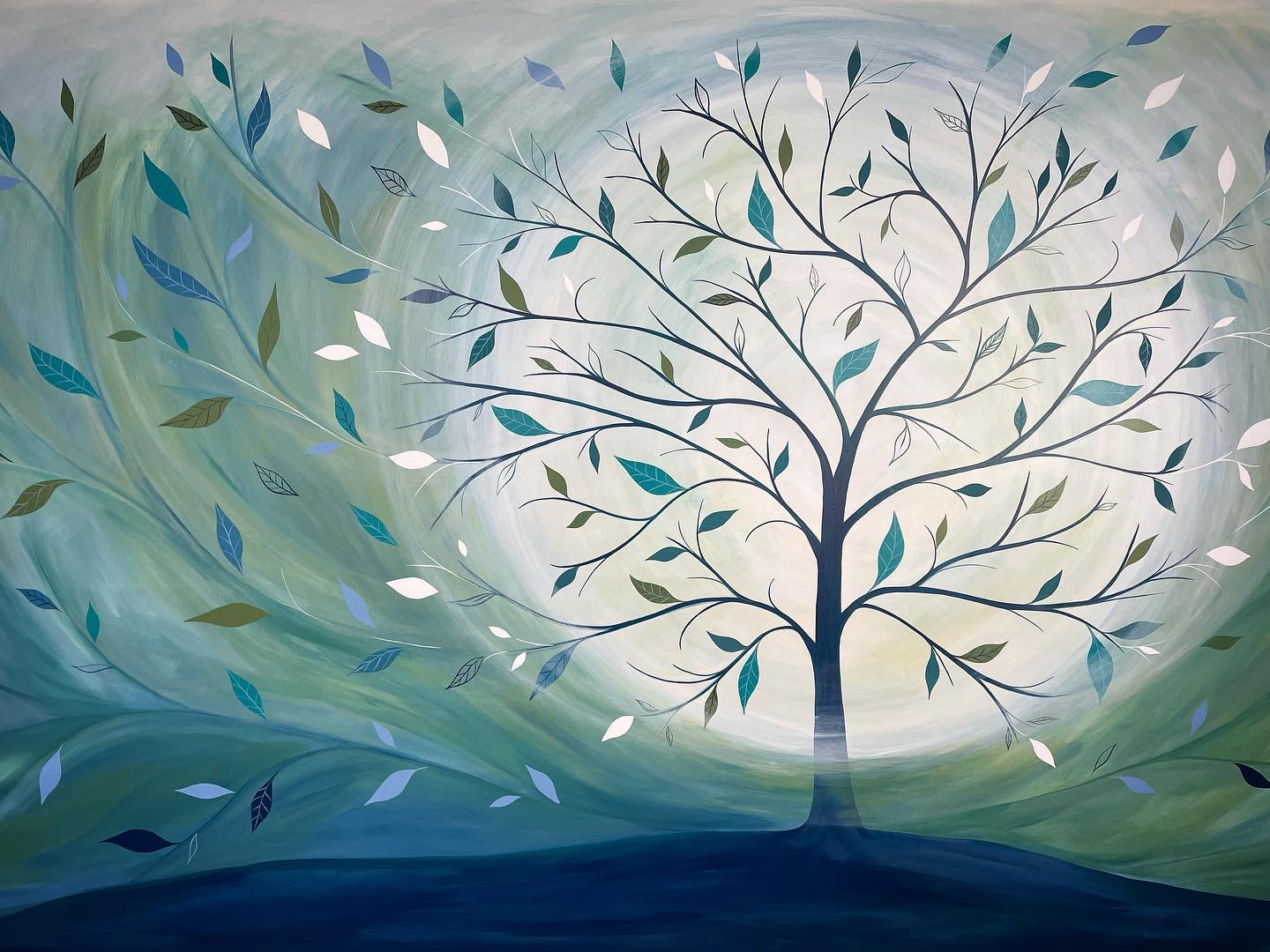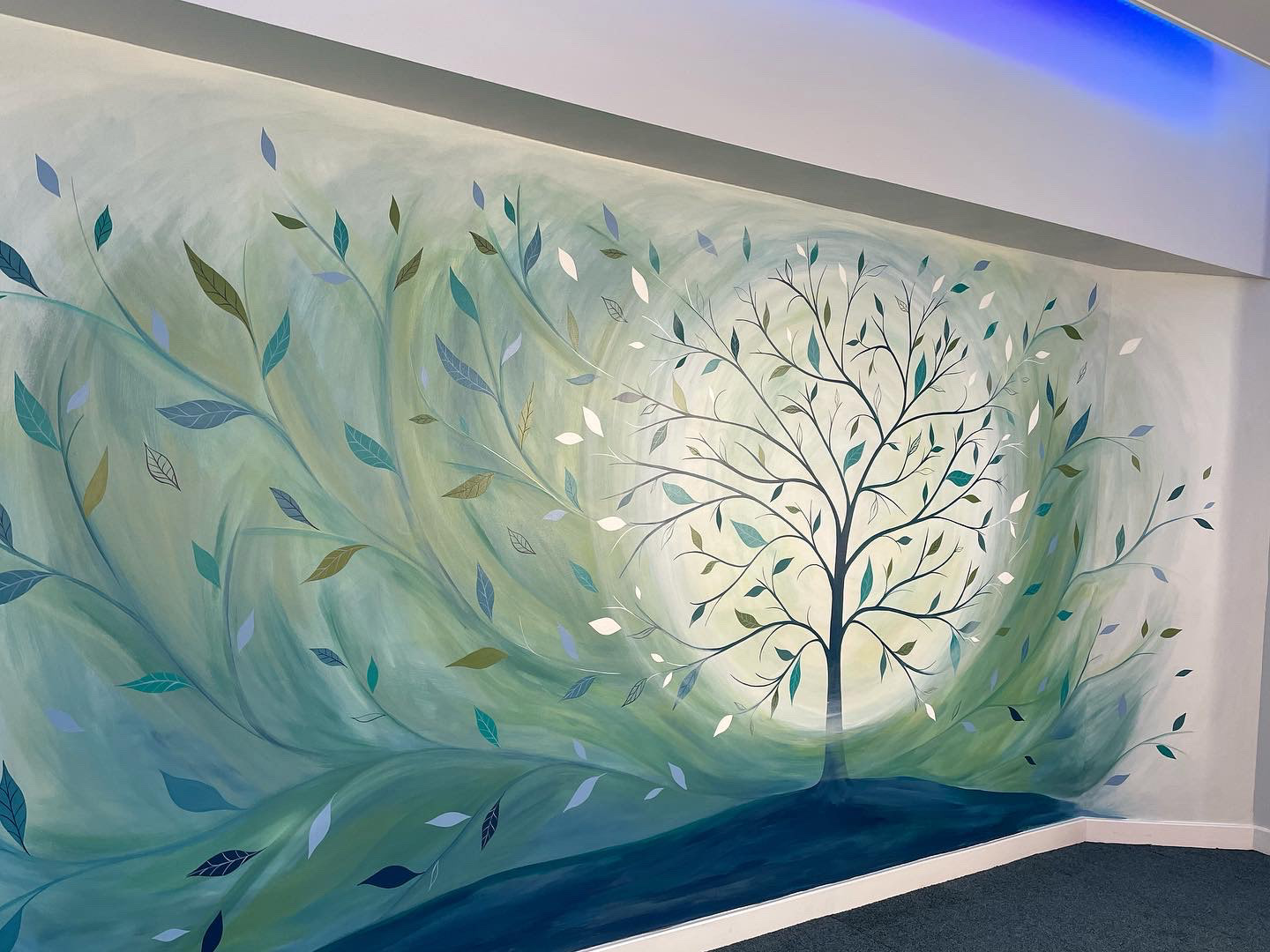 Orthotics Waiting Area Mural September 2022
I have completed a mural fro the entrance to Orthotics. I loved designing and painting this mural. Lots of children use this waiting area and it's been great to chat to them about their favourite animals. I hope it gives them some comfort in what can be an anxious time.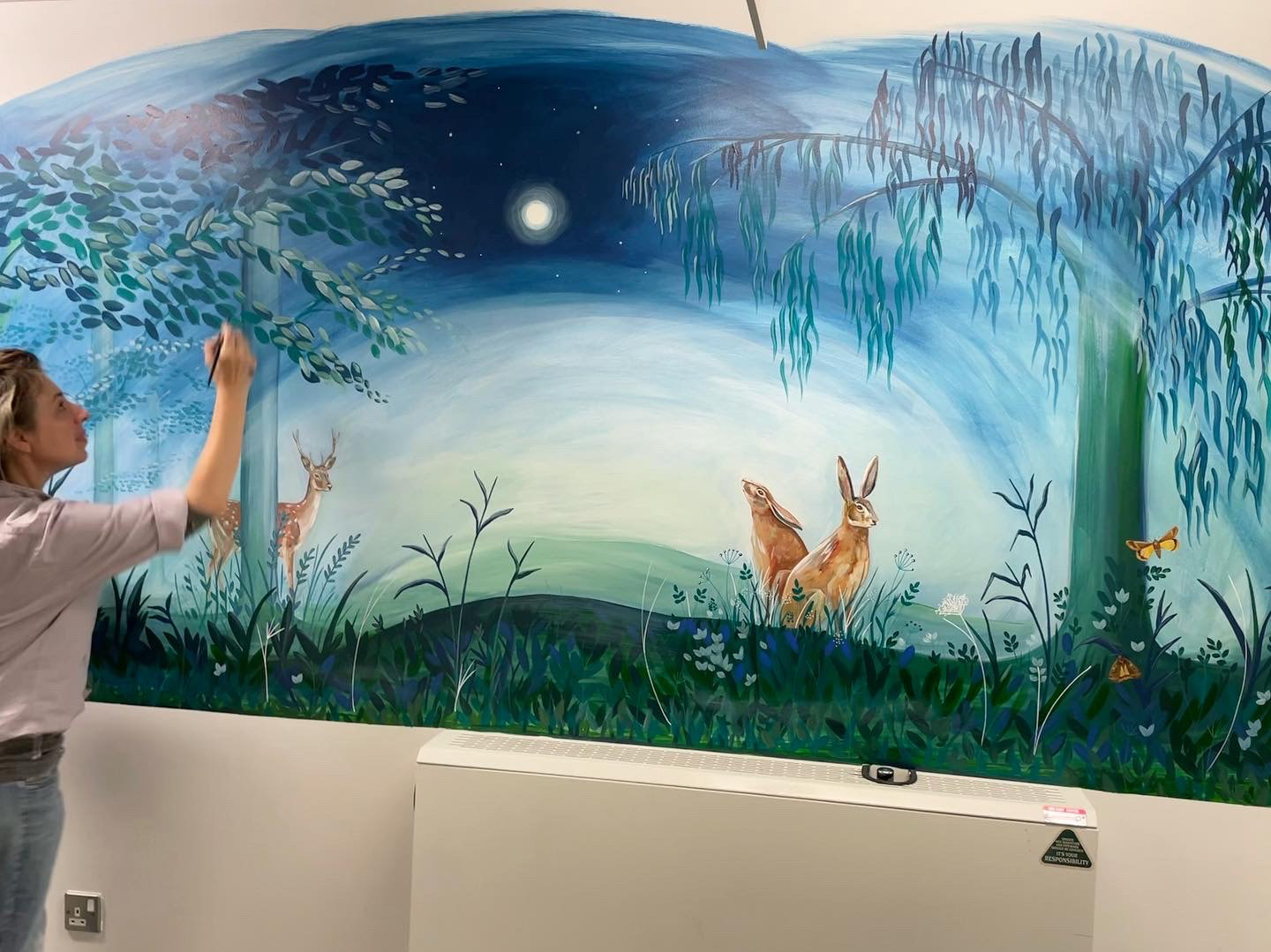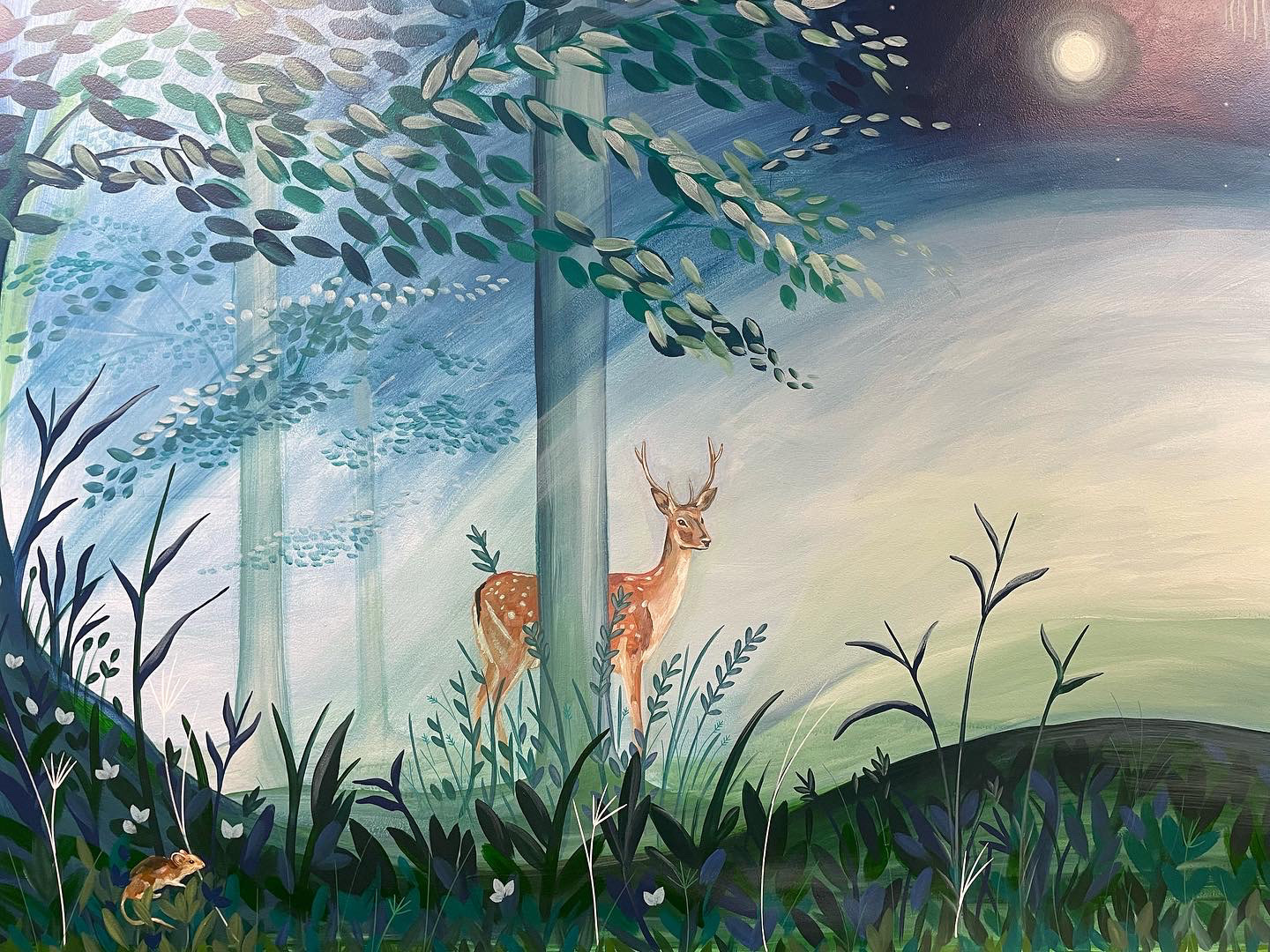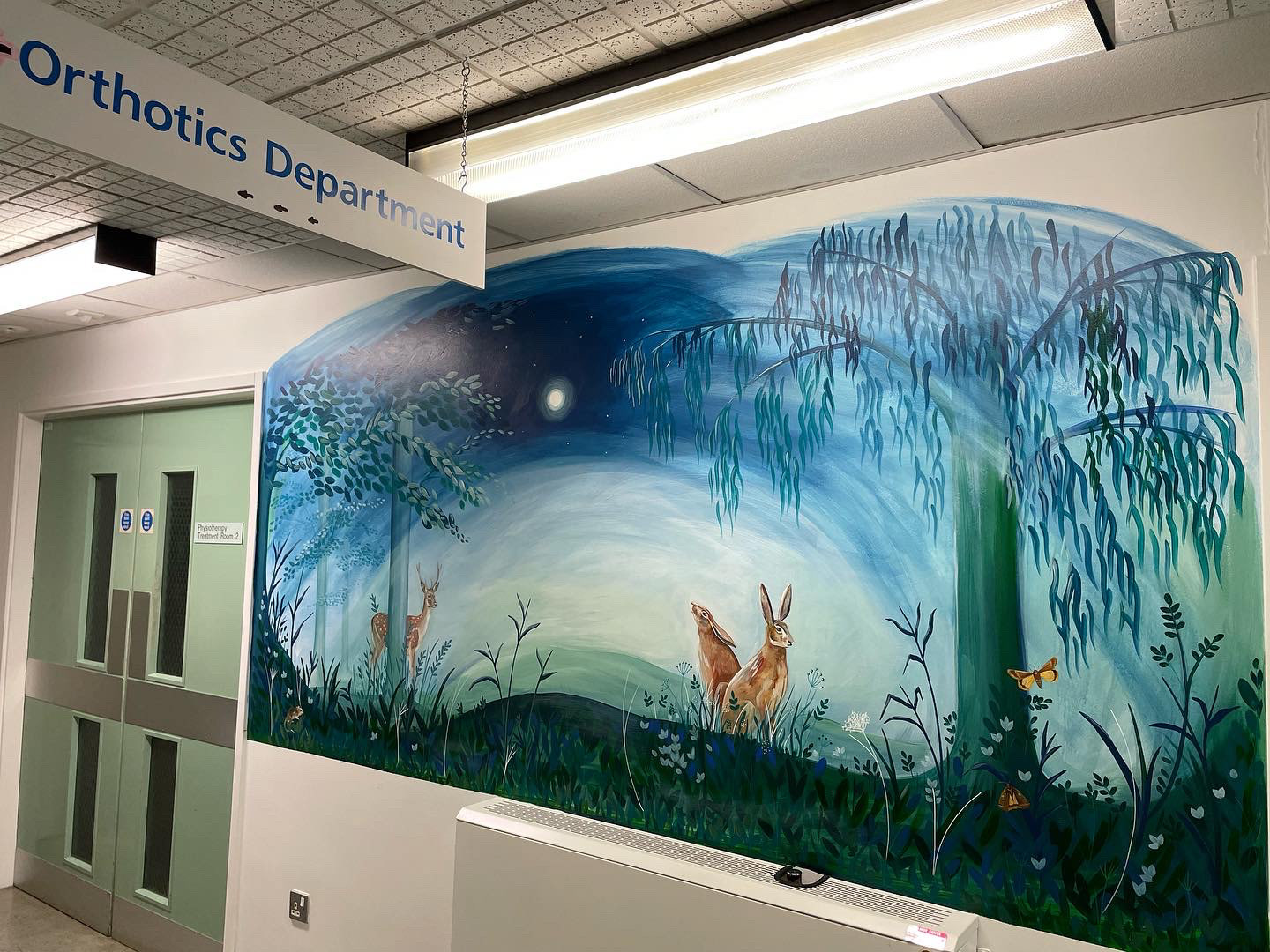 Tyson Fury Comes To Visit!
In July I was painting the Neonatal Unit at The Jessop's Wing at the Sheffield Hospital. I got a visit from World Heavy Weight Boxing Champion Tyson Fury. He has thrown his support behind the Sheffield Hospitals Charity, 21 Years of Jessop's Appeal and he came to see the unit in Sheffield which treated his son.
With help of funding from this charity, I am transforming the Unit for families. It was great to meet Tyson and it was lucky I had my ladder so we could chat face to face! He told me he really loved my work and that I was doing a great job. We have something in common in that we both had premature sons and have both experienced the care and dedication of neonatal staff and we both want to give something back.
Tyson Fury said: "It is truly amazing the work done by the team at Jessops, I would like to thank all of them for their hard work and dedication. I know first-hand how great they are for families.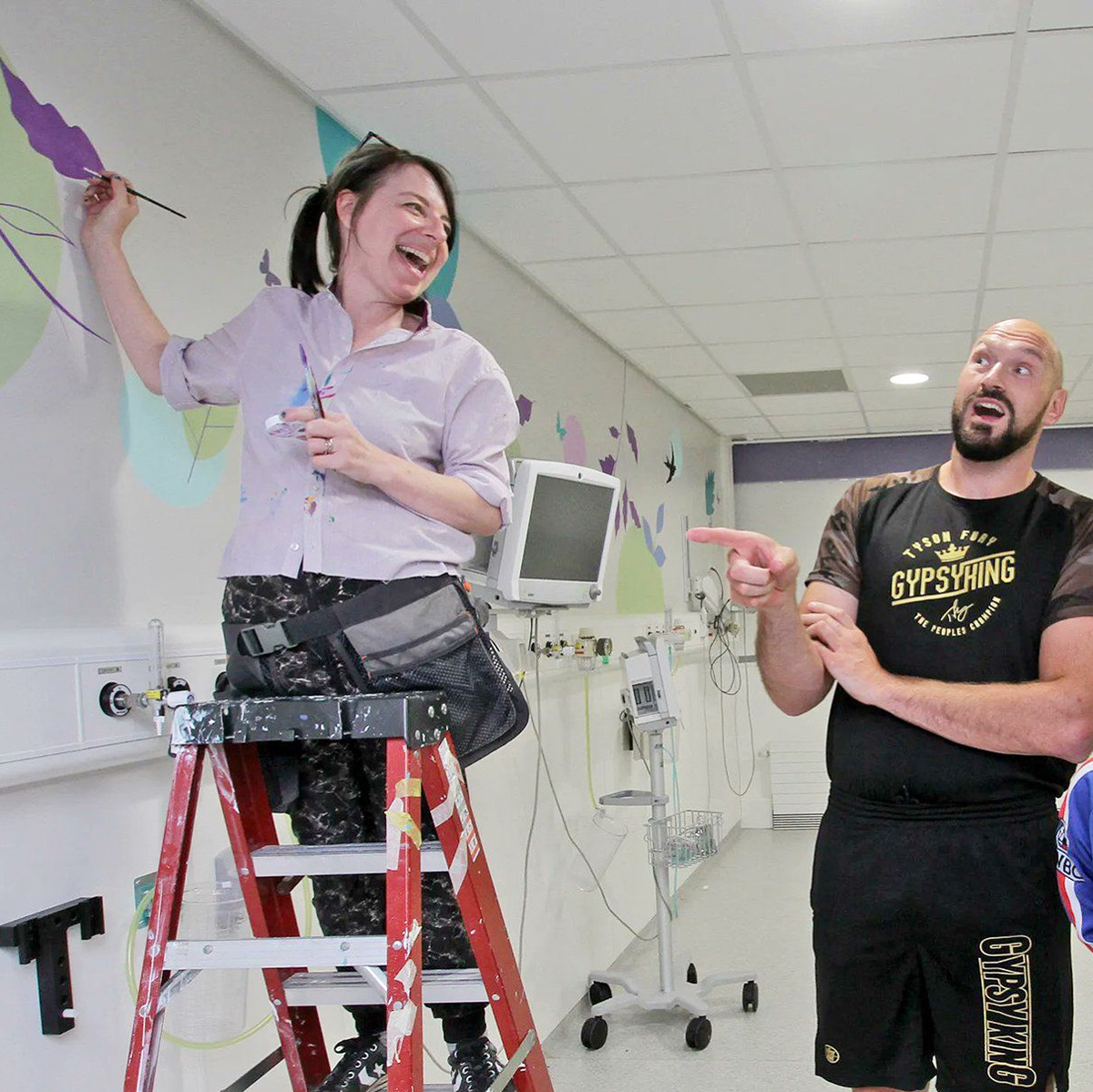 WINNER! Mainframe Award for Digital/Creative Ambassador of the Year 2022 
I am absolutely delighted to win the Mainframe award of Digital/Creative Ambassador of the Year 2022. I am thrilled to bits and I just wanted to say a big thank you to everyone who voted for me!
I've been on such a truly wonderful creative journey over the past 20 years and I have enjoyed every step.  I am so happy to have my work and contribution to the creative sector recognised by this award and I plan to continue being an ambassador, helping others as others helped me when I was first setting out. I will continue to help others to benefit from their experience of the arts, regardless of their personal circumstances.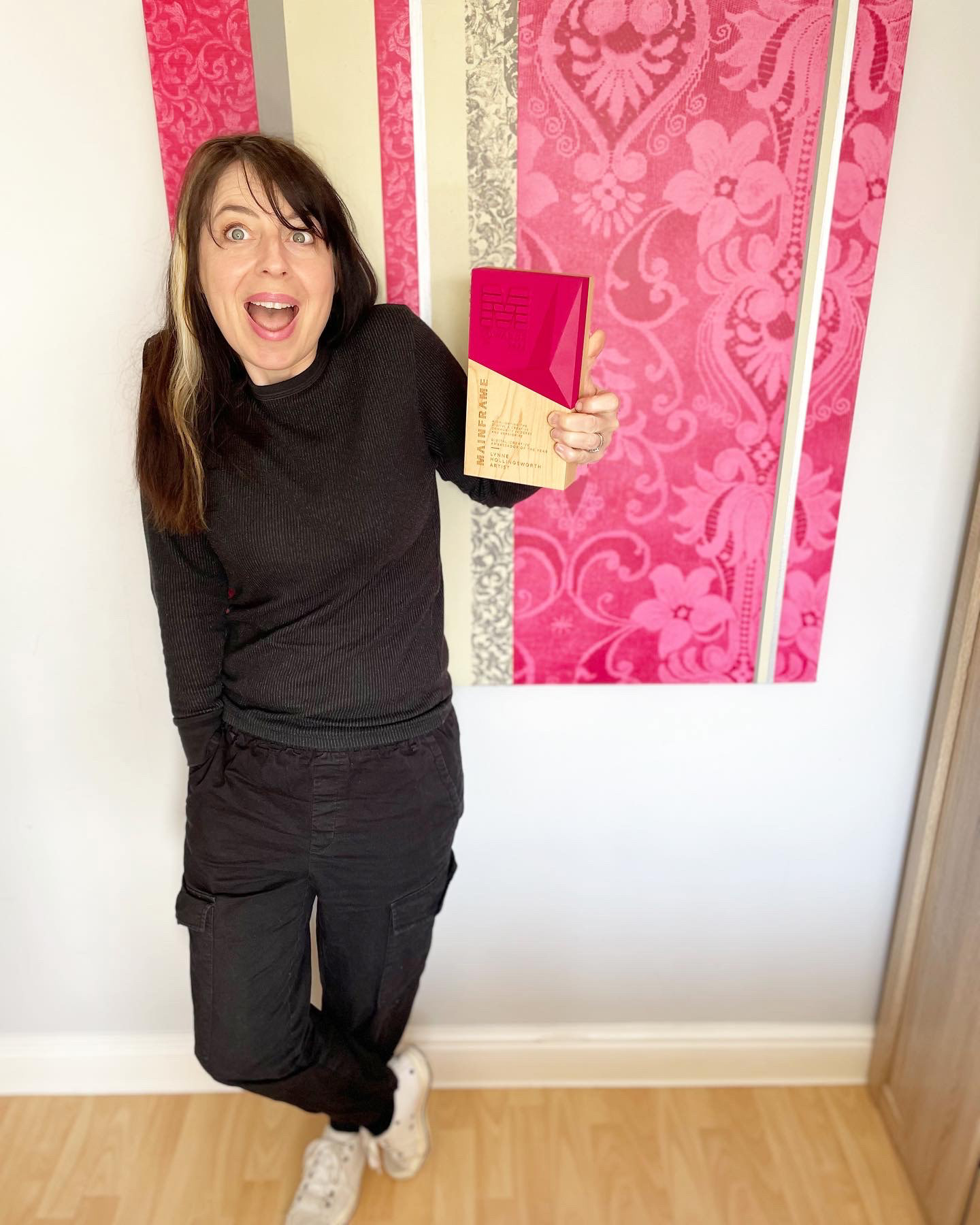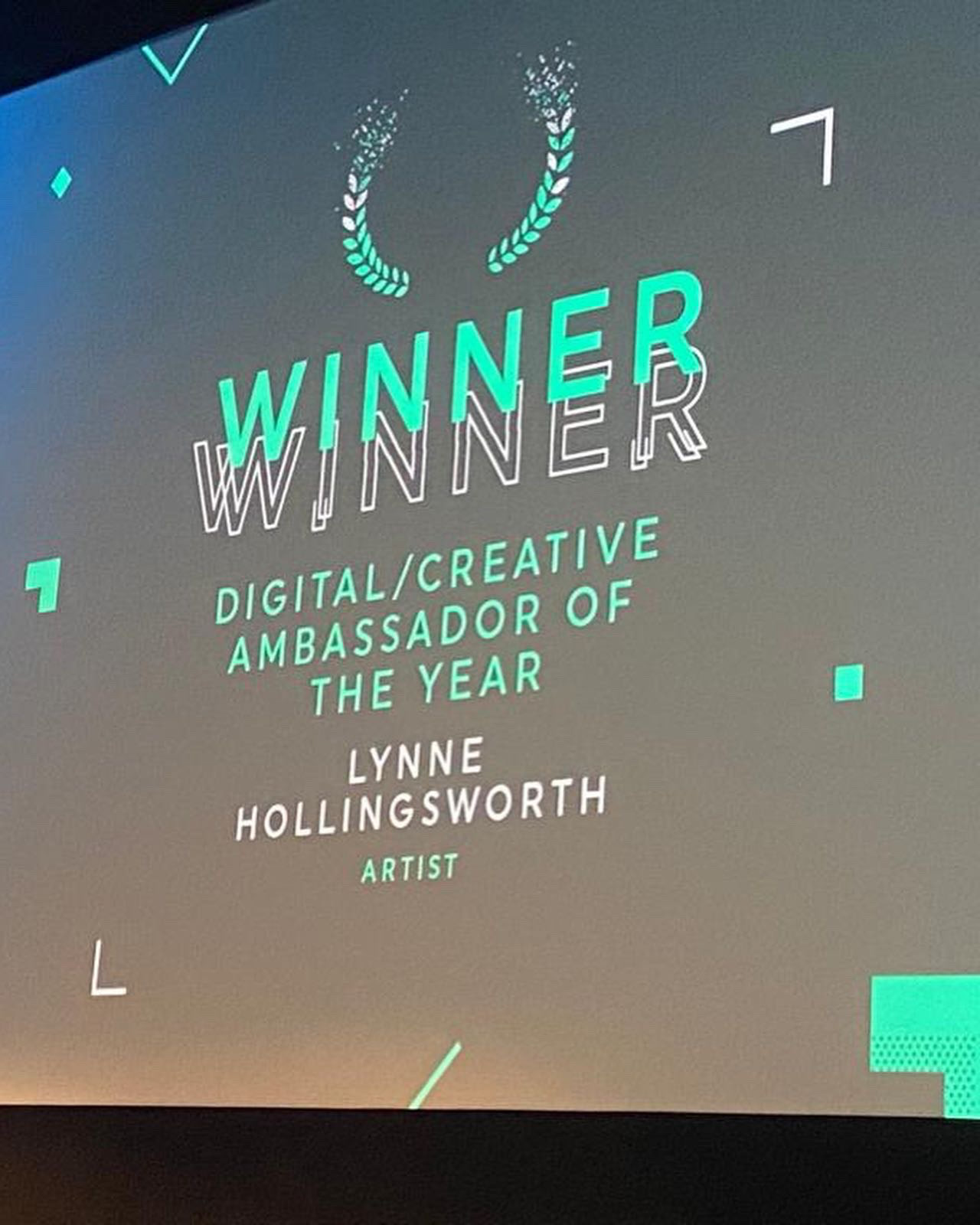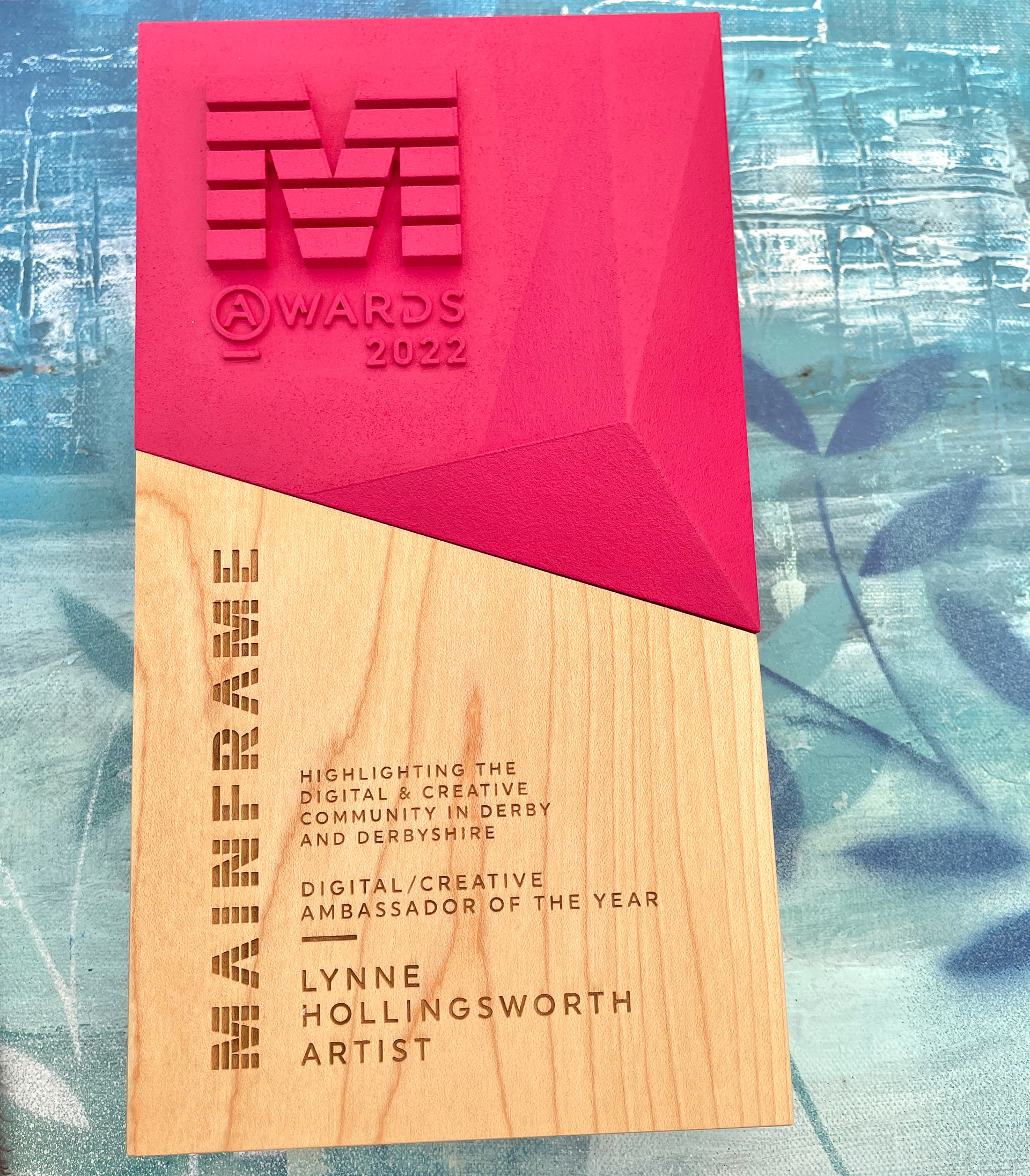 Sheffield Hospital Special Care Baby Unit Mural Project June 2022
I have designed the mural enhancements, signage and also the frosted windows for the Jessops Wing at Sheffield Hospital. I have been working closely with staff and I'm currently working on the mural enhancements for several rooms throughout the unit. Images of final artworks will be posted when this meaningful project is complete. This is a project which is very personal to me. I  have spent many weeks in a neonatal unit with my newborn. It's a stressful and worrying time and full of anxiety and fear. I want to create artwork that speaks to the parents and can be a comforting distraction"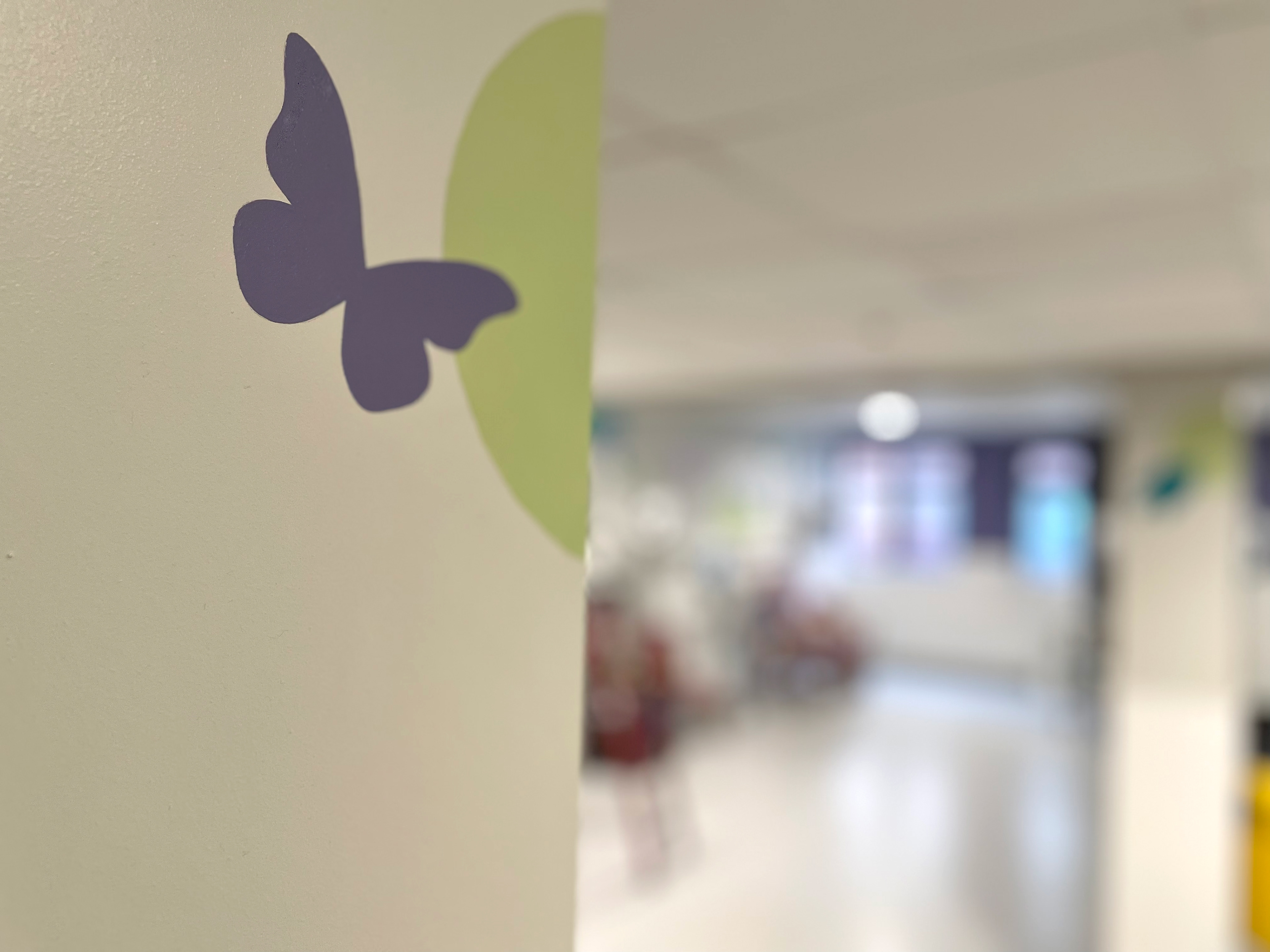 Bracknell BID Sustainabilty Mural 2021
Lynne created a large mural on both sides of the underpass that links two business districts. The theme was sustainabilty and was created to improve the Oldbury and Downmill Road pedestrian and cycleway link. Lynne worked with a group of volunteers from a diverse background to deliver an inclusive and meaningful project at all levels.
"Lynne developed a contemporary, colourful piece that satisfied the brief we provided excellently. She was very professional, obliging and flexible throughout the project, and managed a team of local volunteers wonderfully. I would be delighted to work with Lynne again."
Sean Griffin, Bracknell Business Improvement District Manager
Duffield Meadows Wall Murals 2021/22
Having created a range of mural enhancement across 11 spaces at Duffield Meadows School Lynne has been commissioned to design the branding for their new 'team' system. Lynne has also created a huge playground wall mural and a large artwork in the main hall featuring a wall mural and several art canvases.